Designing Woman
(1957)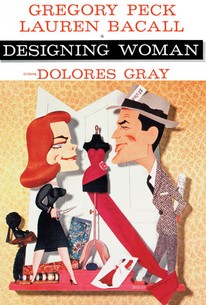 Movie Info
It's the love match of the century. In this corner, ultra-chic fashion designer Lauren Bacall. Her opponent is sloppily dressed sportswriter Gregory Peck. The two meet and amidst their sparring, love blossoms and marriage ensues. This sophisticated comedy, reminiscent of the old Spencer Tracy/Katherine Hepburn vehicles, follows the disparate couple as they try to make their unlikely union a winner. The obstacles they face include vengeful mobsters and a series of improbable misunderstandings. The gangsters are mad at the sportswriter because he has published a no-holds-barred series of exposes on corruption in boxing. The other troubles arise after the writer's ex-girlfriend and the designer's ex boyfriend show up in town. Both are eager see their old flames, neither of whom knows about the other. The supporting cast was unusually good, but Bacall's performance is particularly notable in the film, for though she played a comedy role in the film, her real life was full of tragedy, as during production, her long-time love and husband Humphrey Bogart was dying.
Critic Reviews for Designing Woman
Audience Reviews for Designing Woman
This is another silly romantic comedy with nothing new to offer. Peck and Bacall should have passed on this movie.
½
Rehash of Tracy's and Hepburn's Woman of the Year from 15 years before. Not a bad retelling. There are many funny observations. However, I like the chemistry, frazzled nerves, and rapid dialog of the movie with the classic couple better.
Byron Brubaker
Super Reviewer
½
Designing Woman from 1957 starring the beautiful Lauren Bacall and the great leading man Gregory Peck. I have been wanting to see this film and finally watched it recently and loved it. The movie centers on a wealthy and very high scoiety lady (Bacall) and a very man's man (Peck). Both fall in love and marry quickly after meeting. Soon thereafter they find out through funny situations that they are very different but have one major thing in common the love for one another, can it rule all?
Mason Williams
Super Reviewer
Designing Woman Quotes
There are no approved quotes yet for this movie.