Desire
(1936)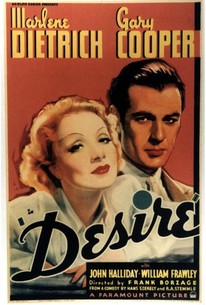 Movie Info
A beautiful, sophisticated woman uses her considerable charms to con a jeweler out of a pearl necklace worth a fortune. She, a notorious jewel thief, then heads for Paris, leaving a stodgy psychiatrist framed for her crime. She is careening toward the border in her car and passes a car driven by a vacationing American engineer, nearly forcing him off the road. Once at the border, the woman almost panics when she sees that the guards are checking luggage and purses. Quickly she slips the pearls into the waiting American's pocket. As soon as he makes it over the border, she is hot on his heels. Though she flirts with him from her vehicle, he is shy and ignores her. In desperation, she speeds ahead, stops and breaks her engine. Naturally he picks her up and together they go to San Sebastian, where her partner waits. Along the way, the American falls head-over-heels for the girl until he finds the purloined pearls in his pocket. He doesn't know that she has fallen deeply in love with him. Though she desperately wants to be with him, another member of her jewel-thieving ring tells her that her past will prevent all chances at romantic happiness. She lies to him and tells him that she has a husband and then admits her true vocation in hopes of scaring him away. Fortunately, he is not so easily frightened and by the story's stylish ending, the lovers are joyously reunited.
Critic Reviews for Desire
Audience Reviews
There are no featured reviews for Desire at this time.
Desire Quotes
There are no approved quotes yet for this movie.