Desperado
(1995)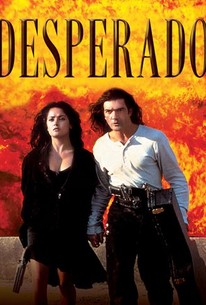 TOMATOMETER
AUDIENCE SCORE
Critic Consensus: Desperado contains almost too much action and too little story to sustain interest, but Antonio Banderas proves a charismatic lead in Robert Rodriguez's inventive extravaganza.
Movie Info
The mysterious, guitar toting "El Mariachi" walks the streets again to avenge the death of his beloved girl friend in this bloody actioner. The tale opens in a seedy cantina where a flustered American bursts in and tells how he just saw a stranger come in and kill everyone in a neighboring bar. He then tells them that the stranger was looking for a man named Bucho and he is heading for their bar. Suddenly, El Mariachi appears looking for Bucho, who uses the bar as a front for his narcotics smuggling ring. An enormous gunfight erupts. Still Mariachi does not catch the elusive drug dealer who must spend the rest of the film in hot pursuit while simultaneously dodging the bullets of Bucho's henchmen.
News & Interviews for Desperado
Critic Reviews for Desperado
Audience Reviews for Desperado
Daniel J DeMersseman
Super Reviewer
A shoot-em-up (and there's a lot of shooting) with attitude (likewise). Now some might confuse attitude with style, but shooting a gun while pumping your fists like one was throwing punches (unnecessary, duh) is not style. And Antonio Banderas practically does Zoolander's "I'm sooo hot" pout through the whole movie embarrassingly. Luckily Salma Hayek's youth and extravagant DNA save the efforts from total unwatchable-ness. Well that and watching Quentin Tarantino get his head blown clean off.
Kevin M. Williams
Super Reviewer
This is a very wild, cool, and stylish film, even if it ends up being style over substance and story (with a messy and scattershot narrative to boot). In a way, this is more of a remake than a loose sequel or spin off. The original mariachi from El Mariachi does make an appearance, but this film is essentially the same story as the first, but with a different guy who knows the first guy. Make sense? Well, if not, don't worry. It's of no real consequence anyway. The action and stunts are inventive, done well, and a joy to watch. Buscemi and Tarantino ham it up in some fun supporting roles, and both Banderas and Hayek (especially Hayek, *wink* *wink*) are great to watch. I have a big attachment to this movie as I saw it at a young age and it introduced me to Rodriguez's work. It also kinda made me wanna make action movies, too. Like I said, it's got some flaws, but for solid action spectacle entertainment, this is a good film to turn to.
Chris Weber
Super Reviewer
Desperado Quotes
| | |
| --- | --- |
| El Mariachi: | But I told you already. I'm a musician. This is my guitar. |
| | |
| --- | --- |
| El Mariachi: | Carolina, did I thank you? |
| Carolina: | No. |
| El Mariachi: | I will. |
| | |
| --- | --- |
| Buscemi: | So, I'm sitting there, and in walks the biggest Mexican I have ever seen. |
| | |
| --- | --- |
| Pick-up Guy: | Is that goin' on right now? |