Desperate Journey
(1942)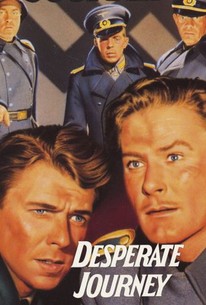 Movie Info
Errol Flynn are the on-screen spark plugs in this bracing propaganda yarn, which relies on the personalities of its casts as well as the lively direction of Raoul Walsh to overcome the improbabilities of its plot. In 1942, a lone RAF bomber flying deep into Germany (just inside the old Polish border) is shot down after completing its mission. The skipper is killed, and left in command is Flight Lieutenant Terry Forbes (Errol Flynn), an Australian who plans on leaving damage behind on the ground so the Germans remember him, even if he doesn't make it back to England. The rest of the crew consists of brash American bombardier Johnny Hammond (Ronald Reagan), bookish Canadian navigator Jed Forrest (Arthur Kennedy), wide-eyed Flight Sergeant Lloyd Hollis (Ronald Sinclair), the son of a World War I hero, and First World War veteran Kirk Edwards (Alan Hale, Sr.). They're captured in short order, and brought before Luftwaffe Major Otto Baumeister (Raymond Massey) for interrogation -- they not only manage to escape, but gather some information vital to the Allied war effort. Now they only have to figure out how to cross most of Germany and Holland, avoiding capture along the way by a mix of sheer daring, blind luck, and assistance from two anti-Nazi Germans (Nancy Coleman, Albert Bassermann) -- and just when it seems that all of the odds have turned against them, they find themselves faced with a German plot to wipe out a major part of London, and one last opportunity to get home.
Critic Reviews for Desperate Journey
Audience Reviews for Desperate Journey
With the soundtrack blaring "God Save The King" throughout the endeavor, there can be no doubt as to the propagandist intentions of this World War 2 adventure. The ever-so-glib crew, stranded in Nazi Germany and trying to get back to England, goes through some tough scrapes, but there is really never any doubt as to the outcome as our boys laugh and joke whatever the circumstance. Charisma carries the day with Flynn and Reagan doing the heavy lifting, yet ably assisted by Hale and Kennedy. Raymond Massey, cruelly underappreciated character actor, is the central heavy, and does a passable German.
Kevin M. Williams
Super Reviewer
½
Errol Flynn and Ronald Reagan star in a light hearted mix between the Dirty Dozen and Commando.
Ken Stachnik
Super Reviewer
Desperate Journey Quotes
| | |
| --- | --- |
| Flying Officer Johnny Hammond: | Pull up a Swastika [a chair] and sit down. |
| Flight Lt. Terrence Forbes: | By the way, has it occurred to you what will happen if we are caught in these [german] uniforms? |
| | |
| --- | --- |
| Maj. Otto Baumeister: | I regret that it must be the iron fist. |
| Flying Officer Johnny Hammond: | Half American, half Jersey City. (his nationality) |
| Flying Officer Johnny Hammond: | Half American, half Jersey City. [his nationality] |
| Flying Officer Johnny Hammond: | The iron fist has a glass jaw. (he knocked out Major Otto) |
| Flying Officer Johnny Hammond: | The iron fist has a glass jaw. [he knocked out Major Otto] |
| Flying Officer Johnny Hammond: | Why do you have to wake me up everytime I have a date with Ann Sheridan? |