Desperate Living
(1977)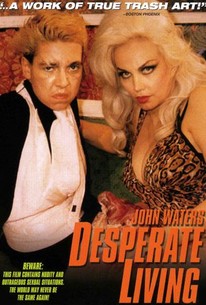 Movie Info
Divine was touring as a cabaret singer when director John Waters made this comedy of the grotesque, but he filled the void admirably with the equally rotund Jean Hill and burlesque-queen Liz Renay. The film tells the story of Peggy Gravel (Mink Stole), a mad housewife who kills her husband then goes on the lam with her 300-pound maid Grizelda (Hill). After being sexually accosted by a lewd, cross-dressing cop with gingivitis, the women are directed to Mortville, a shanty-town for fugitive criminals ruled by the evil Queen Carlotta (Edith Massey). Carlotta's daughter, Princess Coo-Coo (Mary Vivian Pearce) wants to renounce the throne and marry a nudist garbageman, so the Queen has him killed and enlists Peggy's aid in infecting the kingdom with rabies. Waters uses a fairy-tale framework to indulge his penchant for nauseating set-pieces, such as a transsexual lesbian (Susan Lowe) having her new penis cut off with scissors and fed to a dog, women being fed live cockroaches, and Peggy being assaulted at a lesbian glory-hole. Massey is hilarious as the Queen, urging her leather-clad bodyguards/sex-toys to "rob my safety-deposit box!," but the oddly-named actor Turkey Joe steals the show in his brief role as a lecherous cop, spouting lines like "I love the feel of cold nylon on my big butt!" and slobbering over Grizelda's huge underpants. The pinnacle of gross-out humor, Desperate Living is Waters' strangest and funniest film.
Critic Reviews for Desperate Living
Audience Reviews for Desperate Living
½
It's dirty, it's funny, it's sick, it's hilarious. The storytelling is interesting, it's a whole lot of weird ideas combined, and yet the compound is clear and simple
Sylvester Kuo
Super Reviewer
Possibly more depraved than "Pink Flamingos", if that's possible, "Desperate Living" is a paradox for the senses. Although tasteless and shocking, it is ultimately warm hearted and uproariously hilarious. Those familiar with John's style know that these contradictions work splendidly within the context that he intended them to. Never mean spirited, the outrageousness lends itself to an overall statement on the callousness of society itself. Mink Stole is simply incredible as Peggy Gravel. Her ranting and raving throughout the film is side splitting. Special mention to Jean Hill as Grizelda, Liz Renay as Muffy, and of course the ever demure (ha!) Edith Massey as Queen Carlotta. Leave all inhibitions at the door and enjoy this twisted fairy tale roller coaster ride of a good time
Cassandra Maples
Super Reviewer
½
An adult fairy tale in which the evil queen of a shanty-town called Mortville is overthrown by a bunch of lesbians. Some of this is hilarious but, on the whole, Waters' satire is darker and less flippant than usual, and it's less enjoyable as a result. Mink Stole and Edith Massey are on superb form in this.
Desperate Living Quotes
There are no approved quotes yet for this movie.