Desperate Measures
(1997)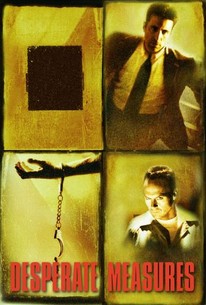 Desperate Measures Photos
Movie Info
Barbet Schroeder directed this thriller about San Francisco police officer Frank Connor (Andy Garcia) who hopes to save his terminally ill son Matt (Joseph Cross) by locating a compatible bone marrow donor. The potential donor turns out to be convicted murderer Peter McCabe (Michael Keaton), who anticipates the trip to the hospital as an ideal chance to escape. When McCabe makes his move, the hospital becomes a battleground, and Connor is put on the spot: He must pursue and protect the psycho killer who is his son's only hope for survival.
Critic Reviews for Desperate Measures
Audience Reviews for Desperate Measures
Peter McCabe (Michael Keaton) is in jail for several murders. He is one of the most dreaded criminals in his prison. However, a cop, Frank Conner (Andy Garcia), finds out that Peter is the only one who can save his son by giving him a bone marrow transplant. Peter agrees to do so after getting several of his privileges, such as smoking, back. However, things take an interesting twist after Peter somehow escapes while in the hospital. Frank can't allow anybody to kill Peter because that would kill Frank's son, but he also doesn't want Peter to do what he is known for, being a murderer. I can't believe that "Desperate Measures" isn't getting a lot better ratings than it's getting. I thought it was a great movie. I like for movies to have a plot, and I'll admit that this movie is choppy in that department, but it does feature one of Michael Keaton's best job as an actor and it has great suspense. That's why I really liked "Desperate Measures." If you can put up with a movie that doesn't have one of the best plots in the world, but one that has good acting and great suspense, I recommend getting "Desperate Measures." NOTE: That was my Amazon review from the year 2001.
Jason Owens
Super Reviewer
½
This so-called thriller concerns a cop, trying to save his son's life, who must deal with a homicidal sociopath who happens to be the only suitable bone-marrow donor in the entire civilized world. Yeah, right!
Dean McKenna
Super Reviewer
Peter McCabe: You have to appreciate the irony. After all these years of being locked up, I'm given the opportunity to kill again. A cops kid too, and all I have to do is sit right here. This movie does a good job at being terrible, but every time it's on, I enjoy watching it. There's just something about it. A strange combination of Andy Garcia and a particularly good Michael Keaton, who does not get enough work in my opinion, star as cop and criminal. Garcia has a terminally ill son who needs a bone marrow transplant. Enter Keaton, who plays a killer in jail and happens to be the only one in the area that matches up to Garcia's son. Upon the time of the operation, Keaton breaks out, basically takes the hospital hostage, and it becomes a cat and mouse game between Garcia and Keaton, except Keaton can't be killed or Garcia's son dies. The movie has plenty of logic problems, but it is good enough to watch on tv, and Keaton shines. Peter McCabe: [after agreeing to transplant] These cigarettes are stale. You tell that cop and his dead kid I won't stand for stale cigarettes.
Aaron Neuwirth
Super Reviewer
Desperate Measures Quotes