Destination Moon
(1950)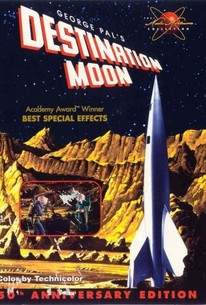 Movie Info
A surprisingly prophetic depiction of space travel that won an Oscar for Best Special Effects, Destination Moon traces the flight of four astronauts (Warner Anderson, John Archer, Tom Powers and Dick Wesson) to the moon. When they get there, they realize that the ship is too heavy to lift off the surface.
News & Interviews for Destination Moon
Critic Reviews for Destination Moon
Audience Reviews for Destination Moon
I think this is a cool nostalgic look at what the people of 1950 thought of the future. It's very interesting and quite exciting for most of the movie. I liked it, it was cool.
I was trying not to judge it too harshly, because 1950's sci-fi will always be severely dated. So in the end, my beef with the film is more just sub par film making than accuracy. The characters are mostly bland and interchangable (with the exception of a goofy "brooklyn" character thrown in for comic relief and giving the other astronauts someone to provide exposition to). The film is shot like one of those 1950's educational films, with boring master shots, and fairly goofy dialogue. I have a feeling even in its day it wasn't considered quality film making. I think the main reason to watch is to see what the" idea" of going to the moon was like before we actually knew how it really went down, and how close they got. That and a strange appearance by Woody Woodpecker... no joke. A kind of fictional time capsule.
The film that made George Lucas and Steven Speilberg fall in love with Sci-Fi. It's one of the first films that tried a realistic approach to man getting to the moon. It's a little goofball,but has some interesting moments and is a sincere approach. Made a 11 years before NASA formed I can see it's appeal,especially if you are a kid. Nothing great, but a little original because their are no aliens or other typical 50's Sci-Fi goofiness.
cody franklin
Super Reviewer
Destination Moon Quotes
There are no approved quotes yet for this movie.