Destroy All Monsters
(1969)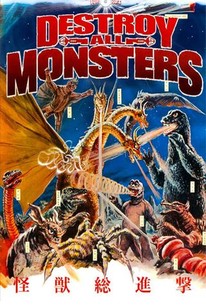 Destroy All Monsters Photos
Movie Info
From a lunar base of operations, the female Kilaakas lead by their Queen (Kyoko Ai) attach electronic collars to the monsters gathered on Ogaswara Island on the planet Earth. The frenzied females wish to take over the world and unleash Godzilla on New York, Rodan on Moscow, and Mothra on Peking. The terrible trio are joined by Baragon, Anzilla, Wendra, Varan and Spigas in their romp to ruin the major cities of the world. After the monsters have wrought their terrible destruction, things are brought under control by the humans. The invaders send Ghidrah in an attempt to rule the world. The monsters congregate at Mount Fugi for an all-star spectacular bout of memorable monster mayhem in this classic science fiction spectacular.
Critic Reviews for Destroy All Monsters
Audience Reviews for Destroy All Monsters
Destroy all Monster is a much needed improvement over the awful Son of Godzilla. This a fine return to the traditional elements of what you can expect from a standard Godzilla picture and though lacking in effective plot, it still boasts some great entertainment value that will certainly delight fans of the series. The plot could certainly have used a rewrite, and it never really does take off, but it is a back to basics movie that isn't silly like Son of Godzilla. Destroy All Monsters is quite entertaining from start to finish. The film has lots of monster action and is what makes it a fun movie that make Son of Godzilla forgettable movie. Don't expect anything great however, as like every other film in the series has its flaws, and it is clear that the filmmakers are struggling to keep the ideas fresh and thrilling. Like I've said in many of my other reviews, there is only so far you can go with this formula, and it is predictable, yet at the same is mindless entertainment value that won't disappoint due to the fact that you know what you want in a Godzilla film, and that's various monsters battling it out with Godzilla. In terms of action and thrills, this has got to be one of the better films that combine various creatures. The plot is basic, predictable, but it's the traditional Godzilla formula that you enjoy. Although not a great movie, this is good for what it is, and it wipes the slate clean with a familiar idea. This one should make fans happy, and is fun despite its flaws.
½
Love Godzilla, love other monsters, love aliens, love destruction, love this movie.Destroy All Monsters takes us into the future where all monsters are now confined to Monster Island. All goes well until a race of alien metal people kidnap the monsters. Then, they brainwash them and set them to attack the major cities of the world. After so many Godzilla island adventures, it was so good to see the cities having their asses whooped. Great designs and model work left for a series of inventive attacks. By the end it all descends into a chaotic (and very unfair) fight. However, their were some genuine moments of panic. There was a moment between Anguilas and King Ghiddorah which left me almost covering my eyes. The sheer intensity, and likable monsters made it an engaging affair. We're left to deliberate how creatures instinctively know who their enemies are. This is a greatest hits for all fans of the genre.
Luke Baldock
Super Reviewer
This film was in the 42nd Street Volume 1 Trailer Collection, When TOHO ran out of ideas with Godzilla, and our other famous Japanese monsters they combined them in a few movies, this is one of them. A group of people from outer space and on the moon are controlling the monsters. The West was far ahead of there time in this movie with blue lasers, implants to control people. A good Saturday afternoon film. 3 stars.
Bruce Bruce
Super Reviewer
Destroy All Monsters Quotes
There are no approved quotes yet for this movie.