Destry Rides Again
(1939)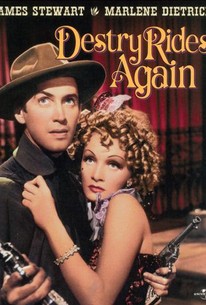 Destry Rides Again Photos
Movie Info
Tom Destry (James Stewart), son of a legendary frontier peacekeeper, doesn't believe in gunplay. Thus he becomes the object of widespread ridicule when he rides into the wide-open town of Bottleneck, the personal fiefdom of the crooked Kent (Brian Donlevy). His detractors laugh even louder when Destry signs on as deputy to drunken sheriff Wash Dimsdale (Charles Winninger). But the laughter subsides when Destry casually proves himself a crack shot, despite his abhorrence of firearms. Later, when saloon chanteuse Frenchy (Marlene Dietrich), Kent's gal, takes umbrage at Destry's indifferent reaction to her charms, she vows to make a fool of the new deputy. A huge moneymaker, Destry Rides Again served as a spectacular comeback for Marlene Dietrich, who two years earlier had been written off as "box office poison."
Critic Reviews for Destry Rides Again
Audience Reviews for Destry Rides Again
½
Not merely a Western (although it is that, particularly insofar as the diversity of the frontier goes), but one of the most entertaining films of all times, it concerns a new lawman who comes to clean a corrupt town --- w/o using his guns. Marlene Dietrich is the head saloon girl (is there a heart of gold under the makeup?) as wild and woolly as they come, smitten by the first decent guy she meets, James Stewart. Una Merkel, Brian Donlevy and Charles Winninger round out the cast headliners for a rich filmic gumbo of an experience. They don't make them like this anymore!
Kevin M. Williams
Super Reviewer
½
This is a fun movie! Frenchy (a strange character name) played by Marlene Dietrich is the inspiration for Madeline Kahn's Lili Von Shtupp. Destry is another great creation by Jimmy Stewart. There are plenty of slapstick bits from the barroom brawls and the supporting characters and heaps of wisecracks from Destry, who would rather reason his way out of a fight than shoot his way out.
Byron Brubaker
Super Reviewer
When the sheriff of a corrupt frontier town is murdered and replaced with the town drunk, the man calls on the services of the son of a legendary law man only to find that he is a pacifist. James Stewart is at his very best for this, one of his defining roles. His easy going charm and integrity are a perfect foil for Marlene Dietrich's feisty music hall girl (so brilliantly parodied by Madeline Kahn in Blazing Saddles) and they have fantastic chemistry together; the cat-fight scene is pure comedy gold. Essentially a story about standing by your principles no matter what the provocation, all the characters are impossible to dislike with some great comic relief provided by a quality supporting cast. Consistently funny with a timeless story of a hero who refuses to resort to violence in the face of adversity, this is one of my all time favourites and a true classic from the golden age.
Destry Rides Again Quotes
| | |
| --- | --- |
| Tom Destry: | Oh, I think I'll stick around. Y'know, I had a friend once used to collect postage stamps. He always said the one good thing about a postage stamp: it always sticks to one thing 'til it gets there, y'know? I'm sorta like that too. |