Detachment
(2012)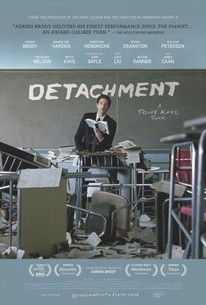 Movie Info
In Director Tony Kaye's Detachment, Adrien Brody stars as Henry Barthes, an educator with a true talent to connect with his students. Yet Henry has chosen to bury his gift. By spending his days as a substitute teacher, he conveniently avoids any emotional connections by never staying anywhere long enough to form an attachment to either students or colleagues. When a new assignment places him at a public school where a frustrated, burned-out administration has created an apathetic student body, Henry soon becomes a role model to the disaffected youth. In finding an unlikely emotional connection to the students, teachers, and a runaway teen he takes in from the streets, Henry realizes that he's not alone in his life and death struggle to find beauty in a seemingly vicious and loveless world. -- (C) Tribeca Film
News & Interviews for Detachment
Critic Reviews for Detachment
Audience Reviews for Detachment
½
So well-paced, well-executed, and helming one of the most needed stories in such a long time, "Detachment" is the type of film that is right up my alley. Although it received mixed reviews, I personally think it is one of the most thought-provoking films of this decade and I highly recommend it, especially to film fans such as myself. It has a screenplay so interesting and deep that I just could not look away from the screen. Adrian Brody is remarkable in this role and I believed every single action taken by his character. "Detachment" follows a troubled and hardened high school teacher as he deals with a new school with arrogant teenagers, a dying grandfather, and a devoted teenage whore. The evolution of the characters throughout this picture felt extremely earned, do to it's devoted script, but I did feel a little let down with the resolution of Adrien Brody's character, which was a bit of a letdown. Overall. this is one of the best films to come from 2011 in my opinion. Terrific film all around and it really makes you think about life in general.
A dark chronicling of the sad state of the American Public School System, through the eyes of a long-term substitute teacher (Adrien Brody), wrestling his own demons whilst trying to make a difference both professionally and personally during his latest assignment. Tony Kaye's "Detachment" is not the lecture I was expecting. It's an almost spiritual study of a system; a broken one, flawed (and as suggested) not inherently but by larger societal problems too broad and numerous to fully grasp or understand. It assesses these issues not with hope but with pitch black honesty. No solutions given but the disturbing thought that some things will never change. Kaye uses the phenomenal performance of Adrian Brody to ground us in the drama. We think at first this will be one man's story, but the narrative's concerns are much broader. This reminded me of "American History X," a masterpiece, also directed by Kaye. It showcases a career best performance (Ed Norton in that movie) in a character piece that isn't so much about a personal journey as it is a grand statement about a specific social problem that will continue to thrive with no end in sight. In "Detachment," Kaye's technique is equally experimental, in a story that's even less streamlined. Brody is definitely the star of the movie, but is not necessarily the focus. We are violently thrust into the lives of a myriad characters; unexpectedly and frantically at times. It could be argued that "Detachment" lacks focus to a fault, but I didn't feel this. Kaye's creation works as collage, similar to but not as extreme as Terrence Malick's take on WWII in "The Thin Red Line." As with "American History X," Kaye's stance is obvious and moment to moment scenes are a bit preachy, but none of this detracts from the established tone and eventual takeaway of this socially conscience, effortlessly powerful movie. The film's cold, apocalyptic final shots aptly conclude a bleak portrait. One that's relentlessly grim, sure, but a bold work of cinema that leaves a lot to ponder.
½
I found this film depressing, and overall just empty. It is non-stop gloom and doom, and it seems each person is having major issues: from the students, to the faculty, to any other supporting cast members. The issues are never resolved, they just seem to linger throughout. After it was all over, I just felt unsatisfied, and unmoved by it all....
Cynthia S.
Super Reviewer
Detachment Quotes
| | |
| --- | --- |
| Henry Barthes: | Life is an ocean of chaos and the realization that you are the one supposed to throw the buoy while struggling to stay afloat is devastating. |
| | |
| --- | --- |
| Henry Barthes: | We have such a responsibility to guide our young so that they don't end up falling apart, falling by the wayside, becoming insignificant. |
| | |
| --- | --- |
| Henry Barthes: | We all need something to distract us from the complexity of reality |
| Henry Barthes: | We all need something to distract us from complexity, reality. |
| | |
| --- | --- |
| Henry Barthes: | I realized something today. I'm a non-person, Sarah. You shouldn't be here, I'm not here. You may see me, but I'm hollow. |