Détective
(1985)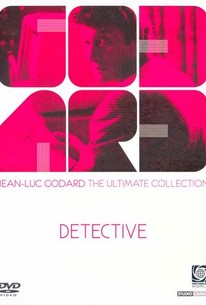 Movie Info
Two Parisian detective investigate a two-year-old murder.
Critic Reviews for Détective
Audience Reviews for Détective
½
[font=Century Gothic]"Detective" was filmed in 1985 as the video revolution was taking hold. In the film, three people(Laurent Terzieff, Aurelle Doazan & Jean-Pierre Leaud) try to discover who killed the prince in the same hotel room where he died. To help out, they record and view videotapes obsessively. On the videotapes are a pilot(Claude Brasseur) and his wife(Nathalie Baye) who are trying to get money they feel is owed to them by a shady boxing promoter(Johnny Hallyday). This sets up Jean-Luc Godard's thesis of repitition and truth. In other words, how many times do we have to watch something before discovering the absolute truth? [/font] [font=Century Gothic][/font] [font=Century Gothic]So far, so good.[/font] [font=Century Gothic][/font] [font=Century Gothic]But not long into it, Godard gets bored with any kind of plot, and starts indiscriminately moving back and forth not only between the above groups but also a third(including Julie Delpy and Emmanuelle Seigner when they were just starting out), one of whom is just around to try on various outfits. Basically, it feels like the remote is in the control of a five-year old, albeit alternating between the Sundance and Independent Film Channels. So, maybe "Detective" is really about short attention spans. Or it could be a modern take on "The Tempest." Who knows?[/font]
although godard was still experimenting with narrative during this decade, detective is a huge step up from some of his earlier films of the 80's. the telling of the story is still quite choppy, but it makes enough sense to navigate well through the stories of the compelling characters that he has thrown into the mix. a bit of comedy, a bit of neo-noir, the film has intrigue and that godard style that i love so much. still not as good as his earlier work, but a step above his previous few films.
Détective Quotes
There are no approved quotes yet for this movie.