Detective Dee and the Mystery of the Phantom Flame
(2011)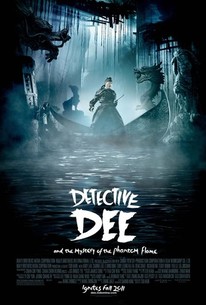 Detective Dee and the Mystery of the Phantom Flame Photos
Movie Info
A period epic from genre master Tsui Hark, Detective Dee is an action-packed, visually breathtaking Sherlock Holmes-style mystery starring some of China's top acting talent. Stunningly choreographed by master Sammo Hung, this intricately plotted whodunit is set in an exquisitely realized steampunk version of ancient China. On the eve of her coronation as Empress (Carina Lau), China's most powerful woman is haunted by a chilling murder mystery: seven men under her command have burst into flames, leaving behind only black ash and skeletal bones. Recognizing this threat to her power, she turns to the infamous Dee Renjie (Andy Lau): a man whose unparalleled wisdom is matched only by his martial arts skills. As he battles a series of bizarre dangers, he unveils a chilling truth that places his life, and the future of an entire dynasty, in peril. -- (C) Indomina
News & Interviews for Detective Dee and the Mystery of the Phantom Flame
Critic Reviews for Detective Dee and the Mystery of the Phantom Flame
Audience Reviews for Detective Dee and the Mystery of the Phantom Flame
A wonderful martial arts adventure that keeps a fun and engaging pace. Detective Dee is released from prison in order to help solve a series of spontaneous combustions. He's pretty much the Chinese Sherlock Holmes, but the film does mix fantasy elements as well. Detective Dee is joined by a series of interesting sidekicks, such as the albino member of the supreme court, Pei, and Jing'er a delegate of the Empress. The film has a fantastic ability to conflict characters with their own actions, showing a distinct line between responsibility and choice. The sets and landscapes were breathtaking at times, especially the gigantic statue of Buddha. The film does it all with great adventure sequences, and even has an impressive fight with some CGI deer.
Luke Baldock
Super Reviewer
½
Viewing Detective Dee I often felt a stranger in a strange land. The sensibilities of the film seemed as foreign as the language - all the talk of honor and serving the empire... while each character (and believe me, there are many) has their own and seemingly changeable beliefs on how to do so. This flexible playing field could make for some interesting Byzantine politics, but somehow the film never got under my skin, making me care who was what. Perhaps it was the language barrier - having to read subtitles while watching all the beautiful sets and then missing parts of the action as the subtitles rolled by. "Wait a minute - who is this guy... isn't he.... No, he's some other guy" happened way too often - and perhaps this is just my inability to keep up with the twists and turns while trying to read the badly translated dialog (or at least I hope it was just a bad translation and not fer real cheesy dialog). Anyhow, there are lots of nice sets and cool costumes on display, along with acrobatic foo reminiscent of Crouching Tiger - though here the jumps and such seemed too much CG. I also have a distaste for films that start out with a long written narrative that tries to put you into the time and place (except for the first Star Wars film) - I dunno, it just seems like the film should let the viewers draw their own conclusions as far as the where and when of a piece - but I guess, given the gravitas of the narrative conclusion, that the Chinese take this story seriously (evidently there was actually an Empress Wu), and perhaps I'm missing something here as well. On a final note of disquieting strangeness for me - it is mentioned several times that the towering statue to Budha being erected for the Empress' coronation was 60 yards tall - ok, half a football field - 180 feet, or 18 stories tall putting it another way - somehow that just didn't seem right as this sucker towers over everything. Again, putting a definite number on something where there didn't have to be one - just say the sucker was huge and let's leave it at that.... And once again I don't know why this bugged me - but somehow is part and parcel of my entire feeling of disconnect and bewilderment with the film.
paul sandberg
Super Reviewer
½
Chinese version of Sherlock Holmes + Men In Black + some genuinely Chinese fantasy and campiness. And again, I just love Andy Lau.
Letitia Lew
Super Reviewer
Detective Dee and the Mystery of the Phantom Flame Quotes
| | |
| --- | --- |
| Detective Dee (Di Renjie): | The will of heaven is bright and clear, but I'm traveling alone. |
| | |
| --- | --- |
| Empress Wu : | Remember, when one's aim is to achieve greatness, everyone is expendable. |
| | |
| --- | --- |
| Empress Wu : | Men have weak points, just like weapons. They will also break when struck. |