Detroit 9000
(1998)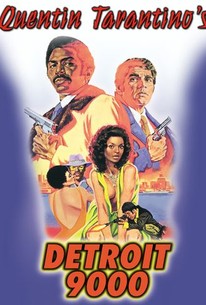 Movie Info
Congressmen Aubrey Clayton announces himself as Michigan's first Black Gubernatorial Candidate during an elegant event at the Sheraton-Cadillac Hotel. However, the celebration of his announcement is disrupted by a team of well-rehearsed masked robbers who burst into the ballroom and rob the party-goers. Clayton's moment was ruined and he wants answer. he believes the robbery was engineered by whites for the purpose of derailing his campaign.
Critic Reviews for Detroit 9000
Audience Reviews for Detroit 9000
½
Quentin Tarrantino is obviously a big fan of this movie as indicated by his re-releasing of said title on his Raging Thunder label and if there's one thing I really like about Tarrantino, it's his taste in films which I share wholeheartedly. Having said this, whilst not implied as an insult to the film itself, this particular blaxploitation offering can hardly be described as one of the best of its ilk; indeed it seems to plod around somewhat aimlessly for most of its running time. However, don't switch off just yet for the final third does pick up incredibly well as it ties up the threads and culminates in a tremendously fun, prolonged chase sequence backed in typical seventies style by a suitable groovy track. Final verdict: Certainly worth a look but far from the most memorable Blaxplotation flick out there.
Cassandra Maples
Super Reviewer
½
One of the finest blaxploitation films to come out of the 1970's. This intense cop thriller is a combination of "The French Connection",and "The Seven-Ups",set up in the corrupted racially volatile cauldron of decay of 1970's Detroit. This was a movie that was filmed on location in various parts of Detroit,with full cooperation of the Detroit Police Department and the Wayne County Sheriff's Department. The cop thriller deals with a heist gone completely bad of a black gubernatorial candidate's fundraiser. Alex Rocco(Moe Green from The Godfather)is the veteran detective on the Detroit Police Force. Jesse Williams(Hari Rhodes from the TV series The Bold Ones,and Daktari and was in Samuel Fuller's 1963 thriller Shock Corridor)is the sharp dressing,highly educated detective who is a fast-rising star in the department. Together they solve the crimes and goes beyond the grain of the scenes of a heist gone awry. However,the film is explicity violent for its scenes of its victims writhing in tortured death spasms,graphic gunshot wounds,and a bloody confrontation shootout with the baddies against the cops on the mean streets of Detroit. Director Arthur Marks(who would go on to direct Pam Grier in Friday Foster and Glynn Turman for J.D.'s Revenge for AIP)does a fine job here showing the gritty side of a city gone in decay. "Detroit 9000" was re-released back in theatres in a restored version through Quentin Tarantino's Rolling Thunder Pictures with additional commentary about this landmark film from 1973. In the film,look for blaxploitation regulars Vonetta McGee(as Rhodes' love interest),and Scatman Crothers as an crooked preacher,along with Ella Edwards.
Mister Caple
Super Reviewer
½
With plenty of racism and sexism, as should be expected, this film deals with racial issues as well, which most Blaxploitations do, yet this seems to do it a shade classier. It has everything you'd want in a film this this: crooked cops, crooked political figures, prostitutes, pimps, good cops, touch of car chases, chase-downs, smack-downs, twists, shoot outs. It also holds your attention as there is a mystery to be solved which takes place first, and introduces central characters later. The main protagonist is actually the second last central character to be introduced, and there is a good supporting cast of characters as well. The film style and soundtrack definetly lends itself to you regular Exploitation flicks of the 70s and that is definetly not a bad thing in the slightest.
Patrick Dolan
Super Reviewer
Detroit 9000 Quotes
There are no approved quotes yet for this movie.