Detroit Rock City
(1999)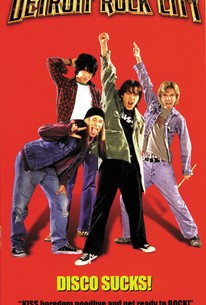 Movie Info
Set in 1978, Detroit Rock City follows four teenagers who embark on a wild adventure to attend a KISS concert. Driven by their unwavering passion to experience their favorite legendary rock group live, the teens will stop at nothing to scam their way into the sold-out show.
News & Interviews for Detroit Rock City
Critic Reviews for Detroit Rock City
Audience Reviews for Detroit Rock City
Mrs. Bruce: God forbid one day you have a son like you, Jeremiah. A boy who lies through his teeth, buys demonic records, and smokes the dope!  "They came. They saw. They rocked." I've always had a thing for Detroit Rock City. It's a fun comedy that you can watch over and over again. But seeing it again now, it's not as good as I remembered. Don't get me wrong, I still really enjoy it, but it does have it's share of problems. For one it's completely stupid and his very little if any intelligent comedy, but I can get over that because I do love the music and the situations. The second thing that really sort of irritates me every time I watch this movie, is some of it's editing tricks. Rifkin seems like he wants the movie to come off as really flashy, but he kind of fails in that department. It's just annoying.  For all of it's problems, I still really enjoy it. The movie features an awesome soundtrack that has a lot of Kiss, but not just Kiss. There's Thin Lizzy, ACDC, Van Halen and many more. I like the cast, too. Their nothing special, but their not working on an Oscar level movie here.  Cool little cameo by Shannon Tweed really tops this movie off nicely. If your a fan of 70's rock and Kiss or you grew up in the 70's this is a movie you'll probably enjoy. For everyone else, you'll see the stupidity as annoying and not cool. 
Melvin White
Super Reviewer
Detroit Rock City is a pleasant little comedy film that focuses on a group of friends who are setting out on a road trip to go see their favorite band, Kiss. Though not an excellent comedy, Detroit Rock City is an accomplished effort as I thought the idea behind the plot was quite good, and above all fun. As a fan of Rock and Heavy Metal music, I thoroughly liked this film for what it was. There's some great comedy on screen, that'll make you laugh and chuckle. However, the film is far from perfect. Things could've been better, but for what it is, Detroit Rock City is lots of fun. What's really funny about the film is how we see the group of teens do almost the impossible to go see Kiss; you gotta admire their dedication to the band and its music. Detroit Rock City is a fun road trip film, and for me, as a person who's gone on multiple road trips to go see my favorite bands, this film brings back all the crazy memories from the road. This is a film that I can only recommend to fans of the band, and to fans of Rock and Metal music. This is a fun, funny comedy that though not perfect, is far from awful.
Something tells me that whoever directed this, must have been pretty stoned out of his mind. Especially if you look at some of the editing and directorial choices. It was just way too much at times, and very over the top. Apart from that little drawback, however, it's a pretty good coming-of-age movie, and a nice tribute to the rock band Kiss. Loved the soundtrack!
Detroit Rock City Quotes
| | |
| --- | --- |
| Lex: | Dude,it's the girls crapper! |
| Lex: | Dude, it's the girls crapper! |
| Trip: | Sooooo...?? |
| Trip: | Sooooo? |