Deuce Bigalow: Male Gigolo
(1999)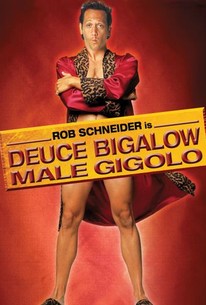 Deuce Bigalow: Male Gigolo Photos
Movie Info
Yet another Saturday Night Live alumnus makes his bid for big-screen success as Rob Schneider, best remembered as the "Making copies!" guy, tackles his first leading role in this broad comedy. Deuce (Rob Schneider) earns a meager living as a professional fish tank cleaner until he's asked to housesit for a gigolo. Deuce mistakenly answers the gigolo's business phone and finds himself having sex with a woman he's never met and getting paid for it (not a bad deal, since women generally avoid Deuce like the Ebola virus). It's not long before Deuce learns that there's more to selling your body than one might expect: for example, being re-styled by your pimp or having to explain your new source of income when the owner of the house gets home. Deuce Bigalow: Male Gigolo was the first feature film produced by Adam Sandler's production company, Happy Madison; Sandler himself makes a cameo appearance, while Oded Fehr, William Forsythe, Eddie Griffin, and Marlo Thomas highlight the supporting cast.
Critic Reviews for Deuce Bigalow: Male Gigolo
Audience Reviews for Deuce Bigalow: Male Gigolo
Deuce Bigalow: Male Gigolo is one of those films that had the potential to being really funny, and memorable. Unfortunately, the film was doomed right from the start by casting an unfunny, talentless "comedian" in the lead. This is a stupid, unimpressive comedy that fails to deliver genuine laughter. This is a poorly conceived comedy that hasn't aged well. The jokes aren't good whatsoever, as a matter of fact the way the jokes are presented in the film, and it's almost desperate. The filmmakers clearly can't make anything work with this comedy, and they just create humorless, tasteless repetitive jokes in order to create "good" gags. Unfortunately, it doesn't work, and this film is simply dull, unimpressive crap. Deuce Bigalow is the type of comedy of which the jokes get old very quickly. This is a film that Hollywood never should have green lit, but they'll make anything to make a quick buck. I hated this film, and felt was a waste of time. Rob Schneider is not funny, and it's with films like this that you wonder how can he still find work? He's a terrible comedian, and plays on one character in every film he does. This is one comedy that has unimpressive, dull comedic gags, and the film is a total crap fest from start to finish. If you're looking for a hilarious film, Deuce Bigalow isn't that film. This is a poorly conceived and completely forgettable comedy. Since its release, there has been far better comedies out there, and Deuce Bigalow is simply put an awful film from start to finish with no redeeming aspects that can salvage how bad it really is.
½
LOL. Not with the movie, at the movie.
Eric Alvarez
Super Reviewer
Some Guys Don't Have All The Luck. Saw it again. Very funny movie, always makes me laugh no matter how many times I've seen it. Good story and nice ending. This is totally a movie just to laugh so don't take it seriously. Deuce Bigalow is a less than attractive, down on his luck aquarium cleaner. One day he runs into a male gigolo who asks him to look after his precious fish while he is away on business. However, he wrecks the house and needs quick money to repair it. The only way he can make it is to become a gigolo himself, taking on an unusual mix of female clients. He encounters a couple of problems, though. He falls in love with one of his unusual clients, and a sleazy police officer his hot on his trail.
Deuce Bigalow: Male Gigolo Quotes
There are no approved quotes yet for this movie.