Devil
(2010)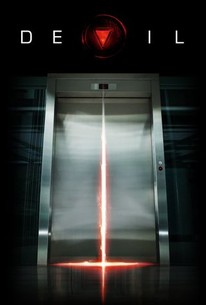 TOMATOMETER
AUDIENCE SCORE
Critic Consensus: It's better than many of the other films M. Night Shyamalan has been associated with, but Devil never gets more than a few low-budget thrills out of its fiendishly promising premise.
Movie Info
Five strangers trapped in an elevator realize that one of them is the Devil in this thriller from director John E. Dowdle (Quarantine) and screenwriter Brian Nelson (Hard Candy, 30 Days of Night). The first installment of "The Night Chronicles," a film series in which up-and-coming filmmakers bring to life stories conceived by M. Night Shyamalan, Devil opens to find five Philadelphia office workers filing into the elevator of an inner-city office building. But a typical day at the office takes a sudden detour into terror when the elevator becomes stuck between floors, and the passengers discover that the Devil does exist, and he's standing right before them. As emergency workers work frantically to free them, secrets are revealed and the passengers realize their only hope for survival is to confront their darkest sins in front of the others. ~ Jason Buchanan, Rovi
News & Interviews for Devil
Audience Reviews for Devil
I very much enjoyed this movie. It's tense and exciting. Worth the watch.
Film Crazy
Super Reviewer
With such an intriguing premise, this Twilight Zone-esque movie could have been scarier and much more claustrophobic, but it only manages to be a satisfying supernatural Agatha Christie-like story whose merits are due more to its solid direction than to its weak script.
Carlos Magalhães
Super Reviewer
½
Ramirez: You must consider that one of these people might be the Devil. "The Night Chronicles Begin." When Devil was first released, I remember not wanting to see it just because of M. Night's presence. However, if this is the best thing he's had attached to his name since Unbreakable. It's really not a bad movie at all and I, to my surprise, really enjoyed it. I liked the idea and it was just a lot of fun. It's not a movie that you'd call great, but as a nice little horror/suspense thriller, it works very well. Five people board an elevator, which gets stuck. A security guard believes, after some of the people in the elevator are attacked, that one of them is the devil. Soon a cop comes onto the scene and tries to figure out what is going on, but slowly the people on the elevator are killed one by one. Are these murders the work of someone with a motive, or is the devil really on board? There's the normal stupidity that goes with a movie like this, but overall it's all presented in a reasonable and competent way. It's probably one of the better "devil" related movies in recent memory, although that's really not saying a whole lot. So in the end, this is a film that is worth checking out even if you hate the post Sixth Sense, Signs, and Unbreakable work of M. Night. It isn't as good as any of those, but it's pretty good.
Melvin White
Super Reviewer
Devil Quotes
| | |
| --- | --- |
| Lustig: | What are you doing? |
| Ramirez: | Oh...when he's near...the toast falls jelly-side-down. |
| | |
| --- | --- |
| Mechanic/Tony: | Who are you? |
| Old Woman: | Today, I'm an old woman. |
| | |
| --- | --- |
| Old Woman: | Damn, I really wanted you. |
| | |
| --- | --- |
| Detective Bowden: | So no, I don't believe in the Devil. You don't need him, people are bad enough by themselves. |