The Devil and Max Devlin
(1981)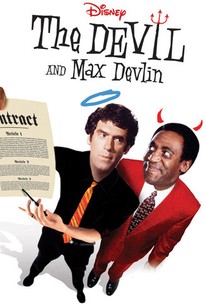 The Devil and Max Devlin Photos
Movie Info
The title character, a nasty landlord (Elliott Gould), is killed in a car accident and descends into hell. There he meets the Devil (Bill Cosby), who promises him his life back if he can find three people willing to sell their souls in three months.
Critic Reviews for The Devil and Max Devlin
Audience Reviews for The Devil and Max Devlin
THE first movie my family ever rented. You know back in the day when you had to rent the VCR too. It came in a big bulky plastic case like a musical instrument. The kind that had the top that popped up so you had to slide the tape in and press the whole thing back down. Wow.
Sean Gillespie
Super Reviewer
A splashy Disney curiosity. It's great seeing Bill Cosby as the Devil! Elliot Gould plays Max Devlin, a rotten man who is given the chance to save his own soul by finding others who are more evil. It's fun black comedy.
Lafe Fredbjornson
Super Reviewer
The Devil and Max Devlin Quotes
There are no approved quotes yet for this movie.