The Devil's Advocate
(1997)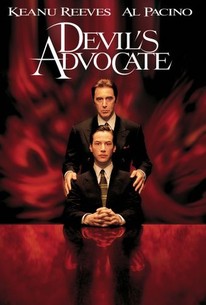 TOMATOMETER
AUDIENCE SCORE
Critic Consensus: Though it is ultimately somewhat undone by its own lofty ambitions, The Devil's Advocate is a mostly effective blend of supernatural thrills and character exploration.
The Devil's Advocate Photos
Movie Info
Supernatural forces hover over the courtroom in this devilish drama adapted from the novel by Andrew Neiderman. Attorney Kevin Lomax (Keanu Reeves) doesn't heed the Bible-based warnings of his mother (Judith Ivey), who views New York City as "the dwelling place of demons." Instead, he leaves Gainesville, Florida, with his wife Mary Ann (Charlize Theron) to put his legalistic skills to the test at a leading Manhattan law firm run by John Milton (Al Pacino). It all goes smoothly -- with Milton urging them to stay, putting Kevin on a $400-per-hour salary, and moving the couple into a luxurious apartment in his own building on Fifth Avenue -- where Mary Ann falls under the influence of neighbor Jackie (Tamara Tunie). After Kevin defends a weird animal sacrificer (Delroy Lindo, uncredited), he moves up to an important case with an apparent murderer, real-estate tycoon Alexander Cullen (Craig T. Nelson). Ignored by Kevin, the troubled Mary Ann has some disturbing experiences, verging on the occult, while Kevin, at work, becomes attracted to redhead Christabella (Connie Neilsen). Dazzled by his entrance into paradise, Kevin doesn't grasp who handed him this Big-Apple success. Could it be...Satan? The film features demonic creatures by Rick Baker. Cameos (Senator Alfonse D'Amato, Don King, others) add to the ambiance of ambition and power in the canyons of Manhattan. ~ Bhob Stewart, Rovi
Critic Reviews for The Devil's Advocate
Audience Reviews for The Devil's Advocate
½
The Devil's advocate is a terrifying, well crafted Horror drama that is one of a few last good films starring Al Pacino. The film combines all sorts of elements into one film, and it's a refreshing take on the traditional horror film. I really enjoyed Al Pacino's performance here and Keanu Reeves, who usually is one dimensional in his acting abilities, gives a good performance as well. The film feels as if John Grisham and Stephen King would've collaborated on a film and this was the result. A good film with good acting, and an even better story. Al Pacino was definitely a wise choice to play the devil in this film and this is simply a well crafted film with creepy, horrifying elements to it. That makes all the difference. This is a well executed film, one that has plenty of chills and good story development. The film may miss the mark on few occasions, but for the most part, the film succeeds in being a work of pure entertainment that will most likely surprise viewers by Keanu Reeve's good performance. But like I said, Al Pacino really is the actor that delivers the goods on screen; he makes the role his own and steals every scene he's in. I think it's too bad that lately he hasn't done anything good, but Devil's Advocate is one of his last great performances. Devil's Advocate is a fine Motion Picture and is a truly entertaining Horror film that every fan of the genre must see. Truly eerie and atmospheric, Devil's Advocate is a film that will most likely make you sleep depraved for a little while.
This movie confirms the myth that lawyers are really demons from Hell. It also has an excellent cast. I really enjoyed this movie, it's very cool, and I highly recommend it.
The story was just weird. It got crazy to crazier from the middle. And it's very slow. Keanu's acting was okay but his wink in the beginning looked fake (or weird).
Dead Angel
Super Reviewer
The Devil's Advocate Quotes
| | |
| --- | --- |
| John Milton: | Look, but don't touch. Touch, but don't taste. Taste, don't swallow. |
| | |
| --- | --- |
| John Milton: | Free will. It's like butterfly wings: once touched, they never get off the ground. No, I only set the stage. You pull your own strings. |
| | |
| --- | --- |
| Kevin Lomax: | satan |
| Kevin Lomax: | Satan. |
| John Milton: | call me dad |
| John Milton: | Call me Dad. |
| | |
| --- | --- |
| John Milton: | Vanity, definitely my favorite sin. |