The Devil's Chair
(2006)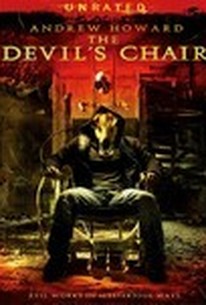 Movie Info
A man locked away in a mental health hospital on suspicions that he murdered his girlfriend vows to reveal the infernal truth behind the young woman's agonizing death in British horror specialist Adam Mason's satanic shocker. Nick (Andrew Howard) and Sammy (Polly Brown) were just two horny with time to kill and a pocket full of drugs. Upon discovering an abandoned asylum, the pair ventures inside and finds a bizarre contraption that appears to be a cross between an electric chair and a sadistic fetish device. It seems that this chair has the power to transform chemical bliss into unimaginable despair, and when Sammy is assaulted and brutally slain by an unknown force Nick becomes the number one suspect in her murder. Years later, after being held in a high security mental hospital, Nick is released into the care of his psychiatrist Dr. Willard (David Gant). Dr. Gant suspects that there is more to this murder than the authorities realize, and in order to prove it he organizes a special field trip to the decrepit asylum where Sammy was slain. Accompanying Nick and Dr. Willard on their excursion are a group of Dr. Willard's most prestigious students. But Nick has been diagnosed as clinically insane, and years of psychiatric treatment have irreversibly altered his perception of reality. Now, as the brutal, blood-soaked truth emerges from the darkness intent on destroying everything in it's path, Nick will have to overcome demons of both the psychological and supernatural varieties if he holds out any hope of ending the slaughter and proving his sanity. ~ Jason Buchanan, Rovi
Critic Reviews for The Devil's Chair
Audience Reviews for The Devil's Chair
The Devil's Chair is one of those films that has a good concept for a film, unfortunately , the filmmakers don't know how to build up on the idea and ends up with a really bad film. This film sucks. The film seemed interesting, and I thought the film had an interesting idea for a film. Unfortunately, the film just didn't deliver. The Devil's Chair is an awful film that has a poor plot. I felt that that film was poorly made, and that director Adam Mason directed a film that is simply bland, tired and overall unimpressive. I hated the film, and thought it was a mess. There are many sequences that simply don't make sense, and frankly don't add anything of interest to the film. This film might have worked if the script would have been worked on a little bit harder. There was some interesting ideas for a film, but none seem to really work. The Devil's Chair was a bad horror flick with a poor cast, poor directing and a poorly constructed script. This was boring, and The Devil's Chair was simply a forgettable film not worth your time. I thought that the film was a missed opportunity to do something truly memorable. The film tried too hard to deliver on the gore with little emphasis on horror. Adam Mason is terrible director in the genre. This film just goes to show that he isn't capable of directing a film that has genuine terror or suspense. That's what this film lacks.
My first impression: fuck every other word does not make for good dialogue. I'm not a prude about swearing, but too much and anything you're trying to put across gets swamped and makes you sound like a 14 year old trying to impress his mates and seem 'hard'. Sadly, the fuck-fest was not the worst of my viewing experience. Even when Nick West was supposed to be somewhat sympathetic, he appeared to be the kind of person I'd cross the street to avoid. I suppose the hideously sexist, angry drivelling rant of over narration (which actually worked quite well at the beginning bar the extreme potty-mouth) was supposed to be a hint to his true nature. The idea is a decent one on paper/in retrospect, but it was pretty horrid to sit through at the time. The scenes on the 'other side' look effective, but they quickly descend into gore-hound territory and stick there for the duration of their appearance. The dialogue is laughable (seriously), though I suppose the jar between it appearing serious and sounding ridiculous may have been intentional. This was aided by the, ahem, performance, of Matt Berry - star of lovely comedy series such as Garth Marenghi's Darkplace and The IT Crowd. I suppose he had a mortgage to pay. I found Hostel pretty unpleasant viewing, but this film makes it seem rather inoffensive in comparison.
½
Best thing about this movie was the closing song. I'm about to give up on British Horror, they are 2 for 2 in the under 3 star award. This is about a man who is said to be insane, and also supposed to have killed a girl, but did he or was it the chair. The devil or monster or what ever it was supposed to be in the other world was real hokey. Was it the acid, was it the chair, is the guy completely insane, I am beginning to this its me who is insane. The chair now that was the movie, pretty bloody when the drills and metal objects went into the skin, not bad on the blood and gore scale but for over all movie just 1 1/2 stars..
Bruce Bruce
Super Reviewer
The Devil's Chair Quotes
There are no approved quotes yet for this movie.