Devil's Den
(2007)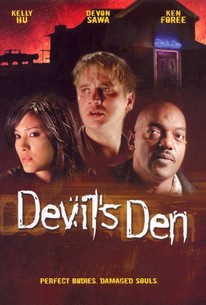 AUDIENCE SCORE
Critic Consensus: No consensus yet.
Movie Info
A pleasure-seeking group of twenty-somethings enter a strip club with no cover charge, only to discover that the satanic establishment requires them to check their souls at the door in a terrifying tale of diabolical lap-dances starring Final Destination's Devon Sawa. Though the dancers at the club may be out of this world, there's a very good reason for their exotic and irresistible features. Now, in order to make it through the night alive, the gentlemen in this club will have to do battle with a hideous horde of blood-drinking she-demons whose power is drawn directly from the lord of the underworld. X2 star Kelly Hu and horror legend Ken Foree co-star in Leatherface: Texas Chainsaw Massacre 3 director Jeff Burr's slick and sexy strip joint shocker.
Critic Reviews for Devil's Den
Audience Reviews for Devil's Den
Pretty good fun given the incredibly limited resources Devil's Den has to work with. But you have to watch it through that incredibly narrow, generous lens, or else the fact that it's really bad might start to get to you.
It takes a really bad movie to force me into fond reminiscence of 'From Dusk Till Dawn.' That's what this movie tries to offer but only manages a protracted exercise in vampiric boredom. While the characters in FDTD were repulsive, at least they were memorable. If you're expecting boobs and blood, there's precious few of the former and a sizable sluice of the latter but tapped through repetitive action scenes.
Doctor Strangeblog
Super Reviewer
If when you were watching From Dusk Til Dawn you wished, "If only this could be shittier" then this is the movie for you. Not a terrible movie but after seeing this and Eagle vs Shark I have to say I'm really shocked with the direct ripoffs I've seen recently. I always thought originality was a bit overrated, but dear God, both the aforementioned could be shot using the same scripts as the films they are "inspired" by. Oh well, it's good seeing Ken Foree anytime.
Christopher Brown
Super Reviewer
Devil's Den Quotes
There are no approved quotes yet for this movie.