Devil's Due
(2014)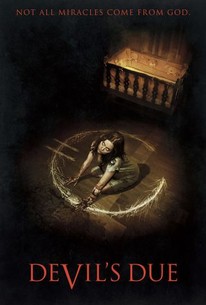 TOMATOMETER
AUDIENCE SCORE
Critic Consensus: Derivative and mostly uninspired, Devil's Due adds little to either the found-footage or horror genres that it's content to mimic.
Movie Info
After a mysterious, lost night on their honeymoon, a newlywed couple finds themselves dealing with an earlier-than-planned pregnancy. While recording everything for posterity, the husband begins to notice odd behavior in his wife that they initially write off to nerves, but, as the months pass, it becomes evident that the dark changes to her body and mind have a much more sinister origin. (C) Fox
News & Interviews for Devil's Due
Critic Reviews for Devil's Due
Audience Reviews for Devil's Due
Devil's Due is a underrated 'found footage' horror film. While the market is saturated with these sort of films, DD sets itself apart with a chilling backstory, and very solid acting, particularly the children (kid in grocery store, blond little girl). If you want a horror film that will get you jolting and keep you in suspense, overall, this is a good film. *For best effect, watch in the dark, and let yourself delve into the characters Point of View (without pessimism). Criticisms for the film: 1) Several Cheap Thrills 2) A little bit of common sense (and fight) missing from characters. 3) Not a very satisfying ending. To be fair though, I've watched many of these 'docu-horror' films, and this was certainly one of the better films. So, let go, and enjoy!
Drew Arredondo
Super Reviewer
Devil's Due, otherwise known as The Most Realistic Film about Pregnancy Ever. That's the best thing about this movie, that it helped me come up with a very stupid joke. I don't wanna say that this is scraping the bottom of the barrel as far as found footage horror films go, I'm sure there's some really low-budget, cheaply produced crap that's far worse than this. But, as far as "mainstream" found footage films go, this is only a slight step above The Devil Inside. Perhaps that's a bit harsh because, at first, glance this film doesn't seem so bad. There is some stupidity like the antichrist protecting the unborn baby when it sense it's in danger. If that's the case then why not just get rid of the Zach, Sam's husband, and avoid him putting up a resistance to the coming of one of the antichrist's children. Don't let him ever find out about the cult that is facilitating this process. Turns out the antichrist isn't as smart as he has led people to believe. That's the stupidest thing that comes to mind. The problem is that the film is absolutely content in mimicking found footage films that came before it, that were better. The one that comes to mind the most is the most obvious one. That being Paranormal Activity, the first one at least. There's something about how the film is structured and edited that just screams PA. This film, in its climax, is a little more violent and bloody than PA ever will be, but it's clear this film was patterned after that series and its success. I think it's fine if you take inspiration from a very successful series, or even borrow elements from it. How many vampire films did we get right after Twilight came out? It's gonna happen when something is popular, it's inevitable. In the case of Twilight, though, many of the vampire related films that came after it were considerably better. Found footage horror films are far more misses than they are hits, so it's increasingly difficult to find one that is as good, or better, than the first PA film. The problem comes when the PA series itself is as creatively stagnant as it is that you want to see others try something different instead of repeating the same stuff you've seen a thousand times before. And that is the main flaw of this. It's content in repeating what others have done instead of blazing its own path. Or even if you're gonna shamelessly ripoff another series, then at least put a little more effort into your scares, something this film is completely devoid of. There's some jump scares here and there, but that's just laziness to me. Here's the thing that made the first PA so great, they knew how to build tension. I've said this a MILLION times since then, but the more that film went on the more uneasy things got. You were dreading what was going to happen because you knew it was gonna be worse than what you had already seen. That's something SO few horror movies get, that it's revealing another side of Paranormal Activity's intelligence, the first one of course, and not the terrible sequels. This film doesn't get the tension and the suspense right at all. For the most part this really is just a boring movie to watch, there's no suspense. And that is what is needed most in this type of film where you're saving everything for the last 15 minutes. I will say that the climax of the film was decent and suitably bloody, but it doesn't really do much other than remind you of how much better this could've been if more effort was put into it. Perhaps the filmmakers did put in an effort, I don't mean to disregard their work...but it's clear that their best wasn't good enough. And these guys did a pretty good segment in the first VHS. Nothing extraordinary, but enough to make you think they'd do something better than this for their first full-length feature film. Just skip this movie altogether and rent REC. Now that's a fabulous found footage horror film. It doesn't get any better than that.
Jesse Ortega
Super Reviewer
Found Footage horror films nowadays feels overdone, derivative and pointless. Yet, studios still seem to make them. After the last two Paranormal Activity films, you could clearly see that the genre had overstayed its welcome. With Devil's Due you have a generic film that simply isn't scary and it fails to really grab your attention in terms of horror elements. The found footage genre is overdone, and with a film like this one, it's clear that there is nothing left to offer the genre. The cast are good, but it'[s a shame that the film's material doesn't gel together, and in turn becomes forgettable. Devil's Due is never scary; in fact it's silly in the way it tries to do so. You know exactly how this film will turn out. The scares are nonexistent, and the film's story just suffers from a lack of genuine thrills and good writing. If you want a great horror film, you won't find it here. This is a predictable affair, one that we've seen in far better found footage horror films. Devil's Due has the misfortune of coming too late in the game, and the result is a train wreck of a film, and it's unfortunate that the story is bad because the cast are quite good here. I think it's a shame that the film's story goes nowhere, and it never realizes its potential of being a good horror film. Maybe if they wouldn't have made a found footage style movie, and reworked the film then maybe this film would have been much better. However, it's just boring, uninteresting and it never is a worthwhile film to watch. Personally, I'm surprised that I was able to finish this, as the film lacked in originality and truly memorable, terrifying elements, which makes the horror genre so good.
Devil's Due Quotes
There are no approved quotes yet for this movie.