Devil's Playground
(2010)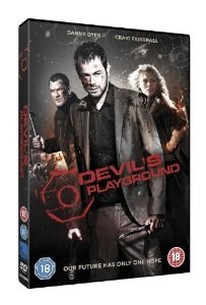 AUDIENCE SCORE
Critic Consensus: No consensus yet.
Devil's Playground Photos
Movie Info
When a revolutionary performance enhancer sparks a terrifying outbreak, humanity's only hope lies with the one test subject who didn't turn into a dangerous killing machine. RAK-295 is the latest drug from N-Gen industries. It was supposed to be the next big thing, but all of the 30,000 test subjects except for Angela Mills (MyAnna Burning) experience a terrifying transformation, the drug designed to make man stronger threatens to be his undoing. Incredibly, Angela seems completely immune to the drug's devastating side effects. Upon receiving word of this hopeful anomaly, N-Gen CEO Peter White (Colin Salmon) orders battle-hardened Head of Security Cole (Craig Fairbrass) to track Angela down, and get her into the lab. Meanwhile, Angela and her boyfriend Joe (Danny Dyer) are fighting for survival on the streets. When Cole shows up determined to drag Angela back to N-Gen Corporation, the future of mankind rests in the blood of one terrified woman with no place left to run. ~ Jason Buchanan, Rovi
Critic Reviews for Devil's Playground
There are no critic reviews yet for Devil's Playground. Keep checking Rotten Tomatoes for updates!
Audience Reviews for Devil's Playground
Cool zombie flick. When a new performance enhancing drug is tested on thousands of people and it has a bad reaction on nearly every tester, Britain(and probably the world) is at risk from zombie bastards! There was one tester who had no reaction, Angela, and she clearly needs to be saved and looked after. Enter an ex-miltary/security/hitman dude, along with a few hangers on, and there battling to get away from the zombies. Thanks to the decent cast and more athletic than usual zombies, Devil's Playground actually feels more realistic than alot of the throw away zombie flicks that have been coming out constantly for the past 10 years. Its a simple idea, maybe not the most original, done well.
In a genre as potentially played out as zombie films, you can't afford to be derivative or dull. And yet this was both. Not awful, but not much else.
½
Ok horror movie with surprising good acting.Its a cheap version of 28 days/weeks later.Action is actually good with a nice helping of gore. Coinciding its a low budget movie there are a few well know faces in this.My really only problem is that the infected are bloody good free runners which seems a bit silly! Worth a look if your looking for a easy going horror flick.
Brian De Guelle
Super Reviewer
Devil's Playground Quotes
There are no approved quotes yet for this movie.