The Devil's Rejects
(2005)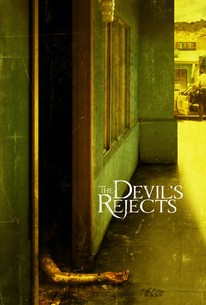 TOMATOMETER
AUDIENCE SCORE
Critic Consensus: Zombie has improved as a filmmaker since "House of 1000 Corpses" and will please fans of the genre, but beware -- the horror is nasty, relentless, and sadistic.
The Devil's Rejects Photos
Movie Info
Ambushed at their isolated home by Sheriff Wydell (William Forsythe) and a squad of armed men, the Firefly family wakes up one morning with guns blazing - yet only Otis (Bill Moseley) and his sister, Baby (Sheri Moon Zombie), manage to escape the barrage of bullets unharmed. Hiding out in a backwater motel, the wanted siblings wait to rendez-vous with their errant father, Captain Spaulding (Sid Haig), killing whoever happens to stand in their way.
News & Interviews for The Devil's Rejects
Critic Reviews for The Devil's Rejects
Audience Reviews for The Devil's Rejects
Rob Zombie surprises us with an intelligent and considerably superior sequel only two years after making us suffer through the atrocious first movie. Full review on filmotrope. com
Carlos Magalhães
Super Reviewer
½
[img]http://images.rottentomatoes.com/images/user/icons/icon14.gif[/img] Rob Zombie's first feature House of 1000 Corpses was a monumentally crushing dissapointment for me. Especially considering it's reputation for having a ridiculously enormous cult following, I expected a lot less from the sequel. However I was curious as to how it would pan out. After reading some of the reviews have that have welcomed The Devils Rejects I finally decided to watch it. Surprisingly, it's more than half decent and better than I thought it would be. Basically, it turned out to be everything House of 1000 Corpses didn't. The film itself along with Zombie's other movies is narratively flimsy and doesn't have any particularly interesting characters that are worth remembering by name. But Rob Zombie himself has grown into a film maker who can actually direct films, as a screenwriter for a self aware exploitation film, he is decent enough, but his direction throughout the majority of The Devils Rejects is fantastic. The set pieces are designed to the final detail and the acting is better than it was the first time around. The film is more remarkable, disturbing and ambitious, than anything Zombie has made to date. That said though, it's still not for everyone, if you don't like the definitive gore that's sure to come with this movie's plot avoid it like the plague, it's completely relentless. But if your a gorehound like me your certainly in for a good time. It's absolutely sick and has a brutally sadistic sensability but unlike House of 1000 Corpses, i'd call it mesmerisingly artful. It also has a clever way of randomly switching the tone without falling apart, so I ended up cringing at some of the gore sequences, and laughing at the black humour at other times. It's a complete mess of a movie in every sense of the phrase, but it's hugely energetic, beautifully shot and pervertedly entertaining. I can only recommend it to it's obvious target audience, fans of pure horror and torture at it's animalistic best.
Directors Cat
Super Reviewer
½
To say that this is a sad and sadistic film would be an understatement. Tasteless would be more. In fact, to even recommend this film would go against all of the morals that I have in terms of me being a film critic. Yet, the part of me that is not a film critic absolutely adores this film for those very same reasons. The Devilâ(TM)s Rejects, the follow up to Zombieâ(TM)s House of 1,000 Corpses is quite a step up for Zombie as a film maker and as a writer. All that I loved about the first film is here, but so much more. The first thing will have to be how much his direction has changed. Watching this film, I was reminded a good deal about Francis Ford Coppolaâ(TM)s The Godfather. How so? Simple: they are both about families that we are raised to hate, yet we love and sympathize with them. In The Godfather, we are shown into the world of the Corleone family and their crimes and we come to accept that that is good. Here, it is the same way: Zombie throws us into the world of the Fireflyâ(TM)s and we accept their brutal, deranged life style to the point that we care for the entire clan. Yes, they torture, kill, and in some instances sexually dehumanize people, but we still love them regardless and hope for the best. It takes a certain degree of talent to make such unlikable people likable, and Zombie has that gift. What he also has is a gift for getting great performances out of people. Mainly with Sid Haig, Sherri Moon Zombie, and Bill Moseley. In the first film, they were okay as performers. Here, they captivate their roles to the point that I was starting to believe that this was how they really are. Even more Moseley. I donâ(TM)t know how they drew their inspiration, but with this film, it is complete convincing. Now, I mention Moseley due to the complete reality he gives his character. I was stunned. Here he is, this grotesque character, when in reality he is the polar opposite. I loved his performance simply due to how convincing he is. The cast in this film does their job right and pitch perfect. As with 1000 Corpses, the script to this film is still laced with dark, witty dialogue that I could just hear over and over again. But what is the high point is the part that involves law enforcement to call in a film critic to try and explain the Marx Brotherâ(TM)s films to everyone. First off, who does that in real life? Second, this I like due to it showing off Zombieâ(TM)s influences and his love of cinema. Even more when the cop is about to kill the critic for insulting Johnny Cash. That entire scene is⦠just beyond hilarious to hear and see acted out. With other scenes, it is just wonderful. Complete with all the â~Fâ(TM) bombs you could wish for. I know I made a comparison between this and The Godfather. I know some of you are thinking that I am considering this a great film. I am not. What I am calling it is one of the most entertaining horror films to be made in the past few years and, as of now, Rob Zombieâ(TM)s masterpiece. He takes this film and brings it to the most extreme he can in the horror genre and leaves it to be the best it can be. So, I am giving this film a high review and rating due to it being what it tries to be: an entertaining ode to extreme horror. For being what it tries to be, it is worth a watch.
Zach Brehany
Super Reviewer
The Devil's Rejects Quotes
| | |
| --- | --- |
| Sheriff Wydell: | Fuck Groucho! |
| | |
| --- | --- |
| Otis: | I am the devil, and I am here to do the devil's work. |
| | |
| --- | --- |
| Mother Firefly: | reminds me of the good old days, back when you was a fuckin baby. |
| Mother Firefly: | Reminds me of the good old days, back when you was a fuckin' baby. |
| | |
| --- | --- |
| Otis: | I think I can still smell your wife's pussy stink on my gun... hope it doesn't rust the barrel. |