Devoured
(2014)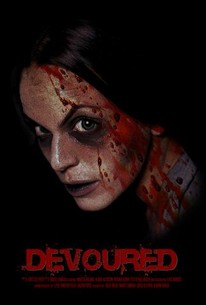 AUDIENCE SCORE
Critic Consensus: No consensus yet.
Movie Info
Immigrant mother (Marta Milans, Killer Women, Mala Hierba) works as a cleaning woman at an old New York City restaurant in order to make enough money to pay for her sick son's operation. With no friends or family, she lives a lonely, desperate existence, saving every penny and sending it home for her son. As his condition worsens malevolent forces living within the walls of the restaurant begin to torment her. She struggles to escape, and return to her son before the evil within the dark walls drives her completely mad.(C) Gravitas Ventures
Critic Reviews for Devoured
All Critics (1) | Fresh (1) | Rotten (0)
Olliver borrows more than his share from Polanski, but never hides his inspiration, and indeed does justice to it instead of just regurgitating its tricks.
Audience Reviews for Devoured
If you've seen more than five suspense/horror movies in your lifetime, then you will be able to predict the twist in this film. And you would be able to do it quite easily, I might add. But the rampant predictability shouldn't dissuade you from giving this film a shot because, honestly, I thought this was quite a good little movie. On top of being a predictable movie, it's also one that borrows from other movies to create its own story. Thankfully, though, it's not one of those movies that shamelessly steals without adding anything of its own. It's a movie that does manage to stand on its own and it tells an interesting story about a mother who will do just about anything to earn money to send back home for her son's operation. In Donald Trump's America this woman, from El Salvador, is a pariah. But now's not the time to get into my political leanings. I liked this movie and, again, it's certainly predictable. But I definitely liked how the story was developed and how everything was paced. And Marta Milans does turn in a great performance here and she really does sell the desperation of a woman who really is living on paycheck to paycheck, gathering up whatever money she can, any way that she can, in order to send back home for her son's operation. Of course, things start to get complicated once there are...spirits start haunting the restaurant she works in. Again, you'll be able to figure it out fairly easily. And, realistically speaking, the movie isn't really about the spirits haunting the restaurant. It's more about Lourdes and everything that she's going through that led to the things that happened the way they did. I suppose I should stop beating around the bush and just spoil it all. Lourdes' son died during the events of the movie and that just drove Lourdes over the edge mentally. And it's not like she was really that healthy to begin with, what with having to worry about making enough money and worrying about her son's health. She's a woman who's under a lot of stress. She lives all alone and, outside of Frankie, she has no friends to depend on in New York. So a combination of all of that really did a number on her and she ended up going on a rampage. Though, honestly, having Lourdes kill SIX people is a bit much. This woman was, essentially, a serial killer. I thought that was a bit much to get to the point they wanted to make. You can sort of justify the first two, maybe even the third one, as this was just a woman who went over the edge and somehow lost control of all her sense. Six victims implies that she enjoyed killing. Lourdes loses some of that sympathy that you had felt for her leading to the reveal of what actually happened. Maybe it's just me, but I felt it was a bit much. It detracted from the character and the overall theme the film is trying to get across. With that said, I still liked this movie a bit. I liked the story and Marta Milans is excellent in her role. There's obvious flaws here, but I thought it was a largely enjoyable flick. One that tries to make an effort to build up a strong character. They don't always succeed, but it works for the most part. Pretty good movie here.
Jesse Ortega
Super Reviewer
Devoured Quotes
There are no approved quotes yet for this movie.