Diana
(2013)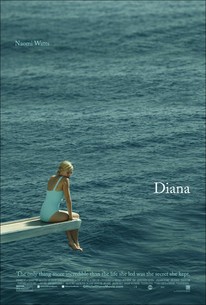 Movie Info
DIANA is a compelling portrait of Diana, Princess of Wales during the final two years of her life. The film stars British-born Academy Award (R) nominated actress Naomi Watts (J. EDGAR, FAIR GAME, 21 GRAMS) who assumes the leading role of the eponymous and iconic princess. Naveen Andrews, best known for his roles in THE ENGLISH PATIENT and the hit television series LOST, co-stars as Dr. Hasnat Khan. Fellow Brits Douglas Hodge, Geraldine James, Charles Edwards and Juliet Stevenson round out the supporting cast. (c) Official Facebook
News & Interviews for Diana
Audience Reviews for Diana
½
Naomi Watts does a good job as Diana, even in the way she walks and looks, but there is not much that she can do to save a soapy script (full of horribly corny lines) that has no real insight into her character and only shows her as immature, caricatural and not very bright.
Carlos Magalhães
Super Reviewer
The only thing more incredible than the life she led was the secret she kept. Very well made Film! The Film does not portray Diana in a bad way at all. If anything, it reiterates the absolute disgusting habits our press have had in terms of absolute disregard and disrespect for people's privacy. You feel a certain connection with Diana throughout the film, and see her for the "normal person" she was deep down. Naomi Watts' performance was spectacular, and she certainly did Diana justice. Although the film is most certainly disliked by many - i.e: the media, Islamophobes and daily mail readers... It is disliked for the mere fact that the film provides an insight into things that make certain people very uncomfortable, such as the prospect of the Princess of Wales marrying to a Pakistani Muslim, and the fact that Diana was actually a human being, with feelings, and with a difficult life. During the last two years of her life, Princess Diana embarks on a final rite of passage: a secret love affair with Pakistani heart surgeon Hasnat Khan.
Mediocre drama based on the last two years of Diana Princess of Wales life. The film boasts some very good performances, unfortunately, I felt that the story was underwhelming and it didn't go in depth with her last years. The tone of the film feels preachy and tries to be something great, but the result is a film that is heavily flawed, and never reaches its potential. The subject is good, but the execution is poor. I think it's a shame because Naomi Watts was perfect for the role. However the film's script leaves a lot to be desired. Is the film as bad as everyone says? No, but it still leaves room for improvement. The aspect about the film is that it really could have been an outstanding drama, considering its subject. The film's script suffers due to a lack of underwhelming ideas, and in the end, the film just doesn't deliver. I really wanted to enjoy this film, but there's nothing of note here. Watts is a perfect choice as Diana, and if the film's script would have been better fleshed out, then maybe this would have been a much better film than what it turned out to be. Don't expect anything great with this film, as it leaves you wanting more out of the film. Considering its story, I think there could have been a much better take on Diana last few years. Unfortunately this film is mediocre at best, and is not really worth seeing if you want a vivid drama to watch. I think it's a shame because Naomi Watts really did give a good performance, unfortunately the lacking material that she has to work with just doesn't offer anything to save this film from being a letdown. Given a few rewrites, I think that this film really could have been something memorable. Instead it wastes a good cast on a poorly thought out storyline that just seems to overdo most of the time. With that being said, the definitive biopic of Diana, Princess of Wales has yet to be made.
Diana Quotes
| | |
| --- | --- |
| Princess Diana: | Yeah, we finally find out the truth, who killed her and God knows, as I know too! |