Diary of a Mad Housewife
(1970)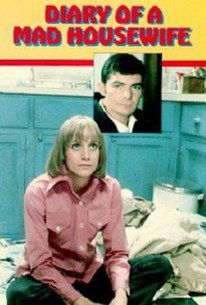 Diary of a Mad Housewife Photos
Movie Info
Tina Balser (Carrie Snodgrass) is the New York City housewife being driven crazy by her arrogant attorney husband Jonathan (Richard Benjamin) and their two spoiled daughters Sylvie (Lorraine Cullen) and Liz (Frannie Michel). Jonathan relentlessly pursues financial success, causing Tina to have an illicit affair with George (Frank Langella), a self centered jerk like her husband who only has affairs with married women to avoid commitment. She dumps both men and enters group therapy, but she fails to find emotional peace in that setting as well. The Alice Cooper Band, the original glam rockers, appear in this film. Carrie Snodgrass received an Academy Award nomination for her performance in the film that targeted the sympathies of distraught distaffs.
Critic Reviews for Diary of a Mad Housewife
Audience Reviews for Diary of a Mad Housewife
½
Perhaps a bit tame by today's comparison, Diary of a Mad Housewife was unique for its time period in depicting the depression felt by those stay at home moms. Kudos to Frank Langella who I haven't managed to see much in his youth.
John Ballantine
Super Reviewer
½
"Diary of a Mad Housewife" is impeccably acted and characterized, though more "play-like" than I prefer. There is little action beyond small-room dialogue, and no notable directing choices beyond a couple of sharp time-lapse montages. I always heard Carrie Snodgrass's Oscar-nominated performance was amazing, but I was actually more impressed with Richard Benjamin. Without relying on any of the usual vices (physical abuse, addiction, womanizing), Benjamin's social-climbing lawyer manages to be one of the most repellent husbands you've ever seen in a film. Self-involved, needy, callous, childish, grasping, anal-retentive...he has it all. Every time he playfully suggests "a roll in dee ha-ay" to his wife, you hope she'll brain him with a baseball bat. Frank Langella is also good as a self-involved cad who (initially) seems like a refreshing escape for Snodgrass. Music fans will enjoy an unexpected live performance by Alice Cooper and band, and there's also an oh-so-brief cameo by the young Peter Boyle. Hard to guess why this film was never released on DVD.
Eric Broome
Super Reviewer
The story of an average housewife who is married to the most annoying man in the world, you can't blame her for cheating on him! You sympathize with her. This is a fantastic drama, very psychological and intense. Plus, there's a scene with an early Alice Cooper band playing at a party! Check it out, it's cool.
Diary of a Mad Housewife Quotes
There are no approved quotes yet for this movie.