Die Another Day
(2002)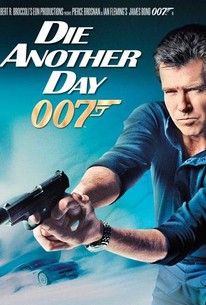 TOMATOMETER
AUDIENCE SCORE
Critic Consensus: Its action may be bit too over-the-top for some, but Die Another Day is lavishly crafted and succeeds in evoking classic Bond themes from the franchise's earlier installments.
Movie Info
A high-speed hovercraft chase, through a minefield in the demilitarized zone separating North and South Korea, marks the beginning of James Bond (Agent 007) embarking on his latest mission. From Hong Kong, to Cuba to London, Bond circles the world in his quest to unmask a traitor, and prevent a war of catastrophic proportions. On his way, he crosses paths with the beautiful Jinx and Miranda Frost, who become further entwined in his latest adventure. Hot on the trail of deadly megalomaniac, Gustav Graves and his ruthless right-hand man Zoo, Bond travels to Iceland into the villain's lair: a palace built entirely of ice. There he experiences, firsthand, the power of a high-tech weapon. Ultimately, this leads to an explosive confrontation back in Korea, where the mission began.
Critic Reviews for Die Another Day
Audience Reviews for Die Another Day
½
The new James Bond film, DIE ANOTHER DAY does not disappoint by any means. Although not as good as Pierce Brosnan's first Bondian effort, GOLDENEYE, it is definitely one of my favorite Bond movies. Intriguing villains, such as Zao (played by Rick Yune of THE FAST AND THE FURIOUS) and Gustav Graves (Toby Stephens) make the film that much more enjoyable. Plus, you cannot disregard the amazing action scenes that dot the film at various intervals. Of course, one cannot forget the Bond babes. Halle Berry is terrific as Jinx, and has one of the most intrical roles of any Bond girl in history. Not to be outdone, Rosamund Pike makes her film debut as Miranda Frost, and MI-6 agent who refuses to fall under Bond's evident charm. Overall, this movie is excellent and I definitely recommend it to all movie-goers, especially Bond fans! 4 1/2 Stars 1-30-14
Bruce Bruce
Super Reviewer
½
As the 20th entry in the series, this James Bond adventure should have really been something special. Instead, it's rather lackluster and kind of ridiculous, even by the standards of the series. We get the typical world domination plot involving goofy technology that gets really silly and over-the-top, and, were this a Moore era film, I'd understand, but this is Brosnan! This is easily the worst entry in his tenure. He's okay, but you can tell he's getting bored wit hit. It also stings that talents like Halle Berry and Michael Madsen get wasted. There's plenty of action, but unfortunately a lot of it is undercut by bad effects, and the film's insistence on referencing all the other films as a tribute to 40 years of Bond gets eye rollingly insufferable at times. I should probably hate on this movie more than I do, but as much as it gets to me, I will admit that it does have its moments and is occasionally entertaining.
Chris Weber
Super Reviewer
½
Die Another Day, the 20th Bond film spanning 40 years with Pierce Brosnan's 4th and final performance as James Bond, is an utterly ridiculous and over the top homage to the series past that also happens to be one of the most entertaining entries in the beloved series. It is a little too heavy on the special effects and one-liners, but it also can be exhilarating. By this point, Pierce Brosnan has been accepted as Bond like no one has since Connery, and he delivers another solid performance. I do completely understand why some people absolutely despise this film as it is very similar to the Roger Moore era of jokey Bond films, but I find Die Another Day a step or two ahead of those films in terms of craftsmanship. The story is nothing to write home about, but it has enough twists and turns to keep things interesting while the action keeps you engaged. Toby Stephens is a decent Bond villain in the typical over the top manner as Gustav Graves, while Rick Yune as Zao, Rosamund Pike as Miranda Frost (in her feature film debut), and Halle Berry as Jinx populate the supporting characters. None of them are memorable, but they are effective, and Jinx's relationship with Bond bucks the Bond girl tradition and almost turns it into one of those buddy action films. Despite awful word of mouth among many Bond fans, Die Another Day managed to have the highest attendance of any Bond film other than Connery's era in its heyday (Goldfinger, Thunderball, You Only Live Twice). I take that as a sign that Bond was alive and well. Die Another Day is not one of the best entries in the series, but for pure popcorn action thrills, it will satisfy your craving.
Josh Lewis
Super Reviewer
Die Another Day Quotes
| | |
| --- | --- |
| James Bond Agent 007: | I'm checking out! |
| | |
| --- | --- |
| Q: | How about you aquatint yourself with the manual you should be able to shoot through that in a couple hours |
| Q: | How about you aquatint yourself with the manual you should be able to shoot through that in a couple hours . |
| James Bond Agent 007: | It only took a few seconds Q |
| James Bond Agent 007: | It only took a few seconds Q. |
| Q: | I wish I could make you vanish |
| Q: | I wish I could make you vanish. |
| | |
| --- | --- |
| Q: | Pardon me for asking 007 but a perfect marksman isn't suppose to shoot his own boss. |
| James Bond Agent 007: | Check the replay you will find he's dead and she only has a flesh wound |