Diggstown
(1992)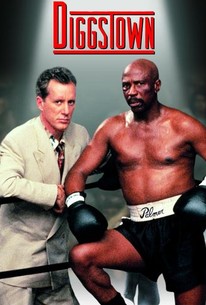 Movie Info
In this light-hearted sports comedy, an ex-convict is no sooner back on the streets than he is working on a brand new scam. This time he decides to hustle a professional Georgia gambler by setting up a sting involving a talented but aging boxer.
Critic Reviews for Diggstown
Audience Reviews for Diggstown
Bruce Dern might actually be the best sleazebag boxing manager in any movie I've ever seen. I realize that that might not be a very long list, for me, since it's not like I watch boxing movies up the ass every day of my life. And it's also not like every one of these films has a sleazebag boxing promoter/manager. But the point still stands, Bruce Dern is absolutely excellent here. What I liked about the character is that he isn't played for comedy at all. He has a couple of funny lines and everything, but he is a man that will do just about anything to get his way. And I do mean anything as the movie does go to some surprisingly dark places when Dern's character feels that someone has disobeyed his orders or just knows too much about the illegal activities he's been up to that allowed him to take over most of the town. I wouldn't call this movie hilarious, by any means, and the laughs that were there were more like chuckles instead of belly laughs. That's fine, since the movie still works thanks to its villain and it's great to see him get his comeuppance after all the shit he's pulled on the people of Diggstown. There's some really heavy-handed moments, right out of sports cliches, that kinda hold the movie back. Like when Roy is getting beat up by Hagan and, in between rounds, Gabriel is telling Roy that he's gonna throw in the towel. It's done in the most over-the-top and hammy manner, with James Woods doing his best overacting. I'm not sure if it was done as a subversive parody of boxing film cliches, but it was a little laughable to me. And the film does take a while before it truly gets going. It's about 30 or so minutes before Roy even comes into the equation, so it was a little rough at first. It does get better, trust me, as you get to know more information about this town and how Gillon has fucked the town over by forcing them into debt and then foreclosing on their houses. It's certainly a movie that has more going on under the hood than you would normally expect. Not necessarily saying this is the most thoughtful and complex movie of all time, but it certainly stretches beyond the normal genre tropes. While the film did end at its high point, seeing Gillon get what's coming to him was immensely satisfying, I can only say that this movie is good. It was almost close to very good, with the way it was going, but the rough start and some silliness kept it from reaching that next level. But at the same time the film is really perfectly paced in some strange way. It didn't need to be any longer than it was. It was just the right amount of time that was needed to tell this story in an effective manner. I definitely recommend this as I think it's a considerably better movie than the rating would imply.
Jesse Ortega
Super Reviewer
½
...It is a certified classic comedy...thanks for the memories...
Fascade Fiveoneeight
Super Reviewer
Diggstown Quotes
| | |
| --- | --- |
| Gabriel Caine: | He's bigger than you are. He's tougher. He's faster. He's younger thant you are. He hasn't fought 22 rounds today, but remember this... you are BLACK! |