Dil Chahta Hai
(2001)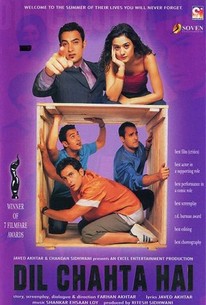 AUDIENCE SCORE
Critic Consensus: No consensus yet.
Movie Info
As Dil Chahta Hai opens, Siddarth, known as Sid (Akshaye Khanna) is racing to the hospital due to an unexplained emergency. There, he is reunited with his old friend, Sameer (Saif Ali Khan). Sameer calls the third member of the trio, Akash (Bombay superstar Aamir Khan from Lagaan), who tells him he's not going to join them at the hospital, due to an unresolved dispute between him and Sid. The film then flashes back to earlier, happier days, to show us what came between the three close friends. Sid was the studious, serious one, with a hidden artistic side, while Sameer foolishly let himself be ruled by the woman in his life. Akash could never limit himself to one woman. He was a playboy who claimed he didn't believe in love. Sameer found himself unexpectedly falling for Pooji (Sonali Kulkarni of Mission Kashmir), the young woman his parents have tried to arrange for him to marry. Akash's father grew concerned about his son's immaturity, and sent Akash to Australia to work for his company. There, he ran into Shalini (Preity Zinta, who also starred in Mission Kashmir), a girl who once rejected him in a Bombay nightclub. She's engaged to be married to Rohit (Ayub Khan), but as the two spend time together, Akash falls hard for Shalini. For his part, Sid met a beautiful divorcee, Tara (Dimple Kapadia), but his friends and family weren't ready to accept their relationship. Eventually, we work our way back to the present, and find out what's become of the three friends and their romantic entanglements. Dil Chahta Hai, a huge hit in India, marked the feature debut of writer-director Farhan Akhtar.
Critic Reviews for Dil Chahta Hai
All Critics (4) | Top Critics (1) | Fresh (4) | Rotten (0)
Farhan Akhtar's sparkling bromance featuring three well-to-do young men and their plush surroundings changed Bollywood's uneasy relationship with (the depiction of ) wealth; spiffy goatees, recliners, sports coupes - and Bollywood was never the same.

Aamir Khan, Saif Ali Khan and Akshaye Khanna play loyal friends that overcome various obstacles of life in a film that captures college life and the transition into adulthood like no film before it.
The voice that rings loudest and clearest is Farhan Akthar's, fearlessly answering the call to forward Bollywood cinema into a bright, hopeful future.
Audience Reviews for Dil Chahta Hai
Heart-warmingly Funny, technically innovative, with great performances. A movie that revolutionised the way Bollywood FilmMakers think..
Too long, not really interesting. It had one or two good songs in it, but I felt that overall it wasn't focused.
Marion Ravenwood
Super Reviewer
½
This movie is absolutely extraordinary! Aamir, Saif, and Akshaye are all remarkable in this movie, their characters reflect a greater bond that stands outside of just mere friendship, but that of brotherhood. This bond is strengthened and tested through all: love, youth, desires, and family. The passage of time marks their friendship as they embrace new boundaries in their lives, together and apart. There is the music as well, it beautifully transitions the sequences of events. A favorite: The three go on a vacation, and drive to the coast. ("Dil Chahta Hai.."). Another would be with Sameer declaring his love for Puja, and they are in the theatre watching a movie. Great movie!!
Dil Chahta Hai Quotes
There are no approved quotes yet for this movie.