Dillinger
(1945)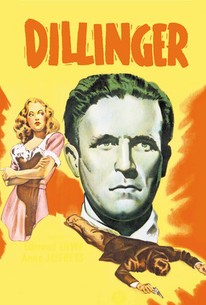 AUDIENCE SCORE
Critic Consensus: No consensus yet.
Movie Info
A very loosely based biopic of Public Enemy #1, Dillinger initially finds the gangster (Lawrence Tierney) as a street kid who moves into bank robbery and murder as he grows older. After killing his boss Specs (Edmund Lowe), Dillinger takes over his gang and eventually becomes a household name.
Critic Reviews for Dillinger
All Critics (3) | Top Critics (1) | Fresh (3) | Rotten (0)

A powerful, bleak B-level biopic of the legendary gangster made just a decade after his death.
This 70-minute classic from Monogram Studios is the epitome of what they call "lean and mean."
Audience Reviews for Dillinger
I saw this right after seeing the new movie, Public Enemy, and it is so similar that it seems like they just copied this movie exactly.
½
made only 10 years after dillinger's death, it's concise if not always factual. lawrence tierney is menacing in his film debut
Stella Dallas
Super Reviewer
½
the flick which prompts lawrence tierney's overnight fame as the hard-boiled tough guy. now he incarnates into the 30s gritty bankrobber john dilinger to heaten up the silver screen. the story starts off with one trivial event which triggers him into robbing a grocery store on his own, a female companion's insistent request on drinking another round of beers as well as the contempting remark from a snobbish waiter who dismisses him as "two-bit chieseler"... it draws the contour of his persona, always motivated by the provocation of overbearing pride which could drive him into anything. in prison, he aquires the skill of conning, then he springs his cellmates to partake in their gang. afterwards he substitutes the boss as the no. 1 man to dominate the whole mob. but eventually his ultraviolent tyranny induces the grudge of his mistress who doublecrosses him to obtain the reward sum. the role of dilinger is literarily tailored for tierney whose private life rivals with the tumults in the roles he plays. dilinger is an abitrarily spoilt man whose vindictiveness thrives him but also abolishes him. his vengeful angst pushes him forward to wench the world into his palm, and it also antagonizes himself against others due to his keen disaposals of his potential foemen. this is a flick accelerated by testosterone, featuring some raw bankrobbery scenes in its primitive state, and it's swiftly paced on a man's rising bloom and his flopping doom. and the closure is blended with a sense of absurdity, interwined with the agonic clausphobia to avoid police: great mobster dilinger gets himself caught for attending theater to see a cartoon flick.
Veronique Kwak
Super Reviewer
Dillinger Quotes
There are no approved quotes yet for this movie.