Dim Sum Funeral
(2008)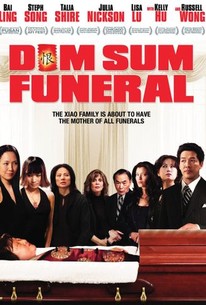 Movie Info
Death brings a contentious family together (though that doesn't mean they get along) in this comedy-drama from director Anna Chi. When elderly Mrs. Xiao (Lisa Lu) dies in her sleep at home, her housekeeper and close friend Viola (Talia Shire) contacts her four adult children in hopes they'll come home to help with the funeral. Unfortunately, Mrs. Xiao didn't have many friends besides Viola, her children all have issues with her, and given her zeal to assimilate into American culture, the siblings are more than puzzled that she insisted upon a traditional Chinese funeral lasting a full seven days. Alexander (Russell Wong), a successful doctor, is still coming to terms with his overly strict mother and philandering father, and is unexpectedly reunited with his ex-wife (Kelly Hu), who he lost through his own infidelity. Elizabeth (Julia Nickson), a writer, also crosses paths with her former spouse (Adrian Hough) while she mourns both her mother and her young son. Victoria (Francoise Yip) has never been able to forgive her mom after she rejected her for marrying an African-American. And MeiMei (Steph Song), an actress, is a lesbian who wants to have children with her significant other Deedee (Bai Ling); they've been having trouble finding a suitable sperm donor, though they think one of the monks at the funeral may be just what they're looking for. Dim Sum Funeral received its world premiere at the 2008 AFI Fest.
Critic Reviews for Dim Sum Funeral
Audience Reviews for Dim Sum Funeral
I liked this movie. Through the circumstance of their mom's funeral, a Chinese-American family come together for the week-long traditional Chinese funeral. There is a lot to resolve - issues about the siblings relationships, and issues regarding their mother.
Dim Sum Funeral Quotes
There are no approved quotes yet for this movie.