Dinocroc
(2004)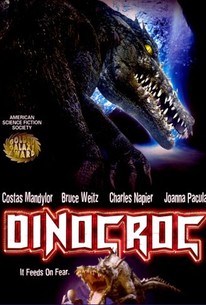 AUDIENCE SCORE
Critic Consensus: No consensus yet.
Movie Info
"It feeds on fear!" read the advertising tagline for this Roger Corman-produced shocker. What could be scarier than a rogue crocodile, except maybe a rogue dinosaur? How about a combination thereof -- a DinoCroc? Hoping to create a cheap alternative to expensive prescription medicines, the greedy Gereco Corporation genetically manipulates a small supply of DNA from a prehistoric creature called the Sarcosuchus. Suddenly revived and very hungry, this ancient "DinoCroc" kills indiscriminately (in some very gory scenes that border on the grotesquely hilarious), but has a special fondness for human flesh. Professional herpetologist and crocodile hunter Dick Sydney (Costas Mandylor) is brought in from Australia to stop the rampaging beast, with the grudging assistance of female scientist Paula Kennedy (Joanna Pacula) and the more willing cooperation of Sheriff Harper (Charles Napier) and his ever-imperiled daughter, Diane (Jane Longnecker). Along the way, the viewer is treated to gratuitous dollops of sex and bad language, which along with the excessive violence earned the film an R rating in its original form. The climax is right out of the movie Them, with a bit of urban legend-spinning thrown in. Filmed under the title PrimeEvil, DinoCroc was given a very, very limited theatrical release before it aired over the Sci-Fi Channel on April 24, 2004.
Critic Reviews for Dinocroc
All Critics (2) | Fresh (0) | Rotten (2) | DVD (3)
With a name like Dinocroc, you know you ain't getting 2001: A Space Odyssey. You're not even getting 2001: A Space Travesty.
...a typically cheesy straight-to-video monster flick...
Audience Reviews for Dinocroc
½
One of the"better" giant lizard Corman movies, but that's not saying much.
Ken Stachnik
Super Reviewer
It's not quite dinosaur, it's not quite crocodile, but somewhere in between. Corman serves up the usual monster killery with a lot of fun, and a rather interesting looking beast. It's doubtful that it will WOW anybody, but you do get some fairly surprising moments.
Luke Baldock
Super Reviewer
Dinocroc Quotes
There are no approved quotes yet for this movie.