Dirty Dancing
(1987)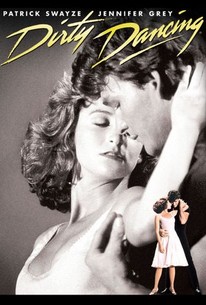 TOMATOMETER
AUDIENCE SCORE
Critic Consensus: Like its winsome characters, Dirty Dancing uses impressive choreography and the power of song to surmount a series of formidable obstacles.
Movie Info
A teenage girl learns about love, adult responsibility, and how to do The Dirty Boogie in this romantic drama. In 1963, "Baby" Houseman (Jennifer Grey) is a 17-year-old spending the summer with her family at a resort hotel in the Catskills; she plans on being in the Peace Corps next summer, so this is expected to be her last summer as a carefree adolescent. Baby doesn't get along with her older sister, Lisa (Jane Brucker), and she's bored to tears by most of the older guests at the resort. However, one night Baby hears what sounds like a party going on in the employee's dormitory, and she pokes her head in to discover most of the hotel staff enjoying the sort of close dancing that would get you kicked out of the senior prom in no time flat. Baby is particularly struck by handsome Johnny Castle (Patrick Swayze), a dancer in the resort's floor show, and falls head over heels in love, wanting to be near him. When Johnny's dance partner, Penny (Cynthia Rhodes), finds herself pregnant after a fling with one of the waiters, Baby volunteers to learn her steps and take her place; however, Baby's father, Dr. Jake Houseman (Jerry Orbach), will have none of it, convinced that Johnny is a low life and that his daughter is too young to understand her own feelings. Dirty Dancing was a surprise box-office hit, and the soundtrack album was an even bigger success, spawning several hit singles and inspiring a top-drawing concert tour featuring several of its artists. ~ Mark Deming, Rovi
Critic Reviews for Dirty Dancing
Audience Reviews for Dirty Dancing
½
I should hate this film because all the girls in my class were so crazy about it that they voted for it instead of Never Say Never Again on video night during a school ski trip. Not sure I watched it ever since, but everything still felt oddly familiar. For some weird reason it still works as a film set in the 60s as well as a film made in the 80s, just like the great soundtrack simply covers both eras without addressing the paradox of songs showing up 20 years before they were written. Long story short: for what it sets out to be, it pushes exactly the right buttons and there is nothing wrong with that.
My wife makes me watch DD. Too bad that this was Jennifer Grey's defining role as an actor. It is a movie I don't mind watching over. I like the music, and the story is uplifting. Interesting comment by Mr Kellerman that this style of holidays is losing popularity.
½
Original rating of 2 upped half a star. That still isn't saying much. An average movie for me is usually a 3. Decided I would re watch this movie. I last watched it when I was 13 and that was under duress as my nan and auntie were drooling over Patrick Swayze in a quite disturbing manner. I couldn't see it, and I still can't, really. It's a nice enough little story and the leads are good, although they don't necessarily look good together. The many dance scenes are pretty cheesy. I found most of it pretty embarrassing (for them) in all honesty, rather than hot. Patrick in that black top thing with his hair slicked back. Oh please! Still, it was watchable and my original rating may have been harsh and due to the dubbing of Patrick as "next year's man" (as my 13 year old self was clearly not old enough to appreciate his hotness). No, didn't happen, but I did come to appreciate him as an actor in his later years and he did seem to be a nice person too). Inoffensive quite sweet story that I don't think I will watch a 3rd time.
Nicki Marie
Super Reviewer
Dirty Dancing Quotes
| | |
| --- | --- |
| Johnny Castle: | You wanna hear somethin' crazy? Last night I... I dreamed that we were walkin' along and we met your father. He said, "Come on," and he put his arm around me. Just like he did with Robbie. |
| | |
| --- | --- |
| Johnny Castle: | Look, spaghetti arms. This is my dance space. This is your dance space. I don't go into yours, you don't go into mine. You gotta hold the frame. |
| | |
| --- | --- |
| Johnny Castle: | I'll never be sorry. |
| Frances "Baby" Houseman: | Neither will I. |
| | |
| --- | --- |
| Dr. Jake Houseman: | (talking to Baby) I won't tell your mother about this. Right now, I'm goin' to bed. And take that stuff off your face before your mother sees you. |
| Dr. Jake Houseman: | I won't tell your mother about this. Right now, I'm goin' to bed. And take that stuff off your face before your mother sees you. |