Dirty Filthy Love
(2005)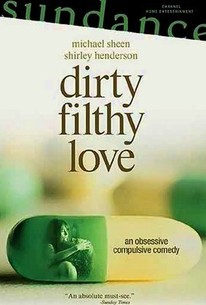 AUDIENCE SCORE
Critic Consensus: No consensus yet.
Movie Info
(Michael Sheen) once had a successful career as an architect and a beautiful wife, Stevie (Anastasia Griffith), but suddenly his life has been thrown into disarray. Mark now finds himself incapable of climbing the stairs without following a carefully planned sequence, he washes his hands constantly, and he curses violently and without provocation at odd intervals. Mark's firm has put him on suspension, Stevie has given up on Mark, and his friends Nathan (Adrian Bower) and Kathy (Claudie Blakley) are tempted to do the same when a number of diagnoses and treatments from various doctors fail to bring positive results. While waiting to see another specialist, Mark meets Charlotte (Shirley Henderson), a woman who suffers from Obsessive Compulsive Disorder, and she suggests that his malady may be the same as hers. In time, it is determined that Mark has OCD and Tourette's syndrome, and with the help of a support group he attends with Charlotte, Mark finally finds ways to successfully deal with his problems. But will his progress be fast and thorough enough to please either Stevie or his employers? ~ Mark Deming, Rovi
Critic Reviews for Dirty Filthy Love
All Critics (2) | Fresh (2) | Rotten (0) | DVD (3)
You may have to look hard to find Dirty Filthy Love on the video shelf, but this is an affecting film that deserves to be discovered.
Dirty Filthy Love isn't exactly a serious look at mental illness, but that's OK.
June 17, 2005 | Rating: 3/5
Audience Reviews for Dirty Filthy Love
A man with OCD attempts to reconcile with his estranged wife. Why is this film marketed as a comedy? I don't think it funny when a man can't leave the house without going through a complicated routine or sits naked in a kitchen sink scratching the skin off his feet because he trod in shit. Michael Sheen doesn't think it funny either, and that's why he's is fantastic as Mark, a man with OCD and Tourette's. Each of his tics elicits a flash of self-torture that Sheen captures wonderfully, and desperate anxiety coats his more embarrassing compulsions. It's a committed, incredible performance. I also like the visual metaphors in the film - the winding staircase representing Mark's mind and ordered, structured apartment houses in which only someone with OCD could find beauty (or, in Charlotte's words, someone "named Lenin"). However, I found it difficult to believe that no one else diagnosed Mark before Charlotte. From the first frame it was clear that Mark had OCD, and the wedding video proves that his symptoms aren't new phenomena. And eventually the film becomes a classic story of a troubled man saved by the love of a good woman, which is one of the most trifling stories ever told. Overall, Michael Sheen is the reason to see this film, and though it's marketed as a comedy, he delivers a dramatic and soul-scathing performance.
Jim Hunter
Super Reviewer
½
Intensely committed acting by a uniformly excellent cast exploring a disease that in its extreme state, which is explored here, is a crippling disorder. If you're interested in OCD or Tourette's from a clinical viewpoint this is worth seeking out but for others it doesn't translate to a pleasurable viewing experience.
Dirty Filthy Love Quotes
There are no approved quotes yet for this movie.