Dirty Girl
(2011)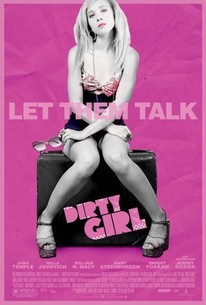 Movie Info
Dirty Girl is the story of Danielle (Juno Temple), the dirty girl of Norman High School in Norman, Oklahoma, circa 1987. When Danielle's misbehavior gets her banished to a remedial class, she is paired on a parenting project with Clarke (Jeremy Dozier), an innocent closet-case with no friends. Danielle is determined to get to California to find the father she's never met, and Clarke is desperate to escape being sent to military school by his homophobic dad. Together, the mismatched misfits light out for California, and discover each other and themselves through a funny and serendipitous friendship. -- (C) Weinstein
News & Interviews for Dirty Girl
Critic Reviews for Dirty Girl
Audience Reviews for Dirty Girl
A teenager and her gay friend hit the road to search for the girl's estranged father. About every road trip cliche is combined with every gay best friend cliche is combined with every estranged teenager cliche. There's nothing original about this film's plot or execution. As tepid as it is, it doesn't offend one's sensibilities with cliche-piling, but that's about the best that can be said of it. Juno Temple is charming and sometimes funny (even if her accent is nothing like what I heard in Norman), and Jeremy Dozier gives a strong performance in his film debut. Overall, Dirty Girl is pretty boring, but it's pro-gay, post-sexual revolution sensibilities made me not mind it as much as I should have.
Jim Hunter
Super Reviewer
Dirty Girl was a fun small Indie flick. I really enjoyed myself watching this movie. The characters are loud and vulgar and I liked it. I'm a sucker for a road-trip flick. The film does deal with some heavy situations and the film makes no light of it, even if it is considered a comedy. Juno Temple is great in this movie. I loved her character Danielle. Her side-kick on this road trip, Clarke, played by newbie Jeremy Dozier, was just as great in this film. I really loved both of their characters. They definitely have to be two of my favorite characters I've seen on screen lately. The film also had a great supporting cast with the likes of Mary Steenburgen, who plays the yes wife. In other words does whatever her husband tells her to right down to how she should act and feel. Milla Jovovich plays Sue-Anne, another yes mother who lets her daughter run all over her. William H. Macy does well in his role as the new Morman boyfriend of Sue-Ann. Last but not least, Dwight Yoakam plays Clarkes overbearing, small minded, abusive, douche of a father. Great performanes by all. I really loved the movie. It's got a great mix of comedy and drama. Best of all, besides the performances and the film itself, was the music. The film has one of THE best soundtracks. I really enjoyed the movie, and I can't wait to see it again.
♥˩ƳИИ ƜѲѲƉƧ♥
Super Reviewer
Let them talk. Good movie! This movie offered a bit of everything. Humor, emotions, feel-good and even some awkward moments. In many ways Dirty Girl is funny, charming, delightful, and satisfying. In many ways it's dark, sad, depressing, and begging to be loved. We have two insecure characters that go about their insecurity in totally different ways. One, giving herself up to anyone and everyone, and the other just sitting by idly in high school taking the hatred from his peers and probably his classmates. It's a sad world after all. Eventually it is a true feel-good movie with a nice but somewhat cliché plot. To end all this, I'm really taking my hat off for the acting. A comedic story of the search for identity and the redemptive power of unexpected friendship. Danielle is the dirty girl of Norman High School. When Danielle's misbehavior gets her banished to special ed, she teams up with an innocent closet-case and together they head out on a road trip to discover each other and themselves through a funny and serendipitous friendship.
Dirty Girl Quotes
| | |
| --- | --- |
| Clarke: | You ever try magic fingers? |
| | |
| --- | --- |
| Sue-Ann: | I'm a shitty mother. |
| Peggy: | Join the club. |
| | |
| --- | --- |
| Peggy: | My son has run off with your daughter! |
| | |
| --- | --- |
| Danielle: | Mister, you don't know who you're dealin' with! |