Dirty Hands
(1975)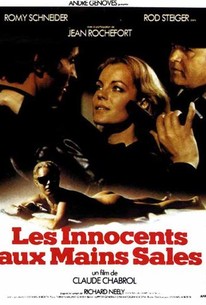 AUDIENCE SCORE
Critic Consensus: No consensus yet.
Movie Info
In this crime drama, a philandering wife plans to ill her alcoholic husband so she can run away with her lover. It all goes according to plan, and the widow is finally happy. Her happiness is short lived, as the "dead" husband shows up alive on her doorstep.
Critic Reviews for Dirty Hands
Audience Reviews for Dirty Hands
What's not to like with plot and psychological twists and the beauties of Romy Schneider and St. Tropez?
Stefanie C
Super Reviewer
There are a few shocking relevations, twists and turns, but it all rings somewhat hollow given that it's happening to characters we feel no connection to because very little was done to flesh them out.
Quinto Wallight
Super Reviewer
A beautiful woman (Romy Schneider) and her lover hatch a plot to murder her rich, impotent, alcoholic husband (Rod Steger). Things seem to be going to plan until both husband and lover fail to return from the pre-arranged 'boating accident', and the woman finds herself the unwanted focus of two missing person investigations. Hmmm... I can't think of very much to say about this. After a clumsy start, things improve immensely once the police start sniffing around and asking awkward questions of Schneider, who at this stage is just as mystified as we are. Unfortunately, Chabrol tries our patience with a succession of ludicrous plot twists in the second half and the movie outstays its welcome. Schneider is superb and Jean Rochefort turns in a very droll performance as her crafty lawyer. Rod Steiger is fine but his dubbed voice is very distracting; he's probably better in the English language version, where there ought to be a closer correlation between his dialogue and the shapes his lips are making.
Dirty Hands Quotes
There are no approved quotes yet for this movie.