Dirty Rotten Scoundrels
(1988)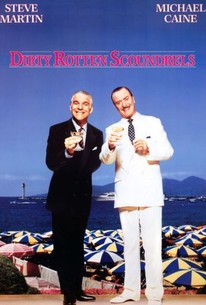 TOMATOMETER
AUDIENCE SCORE
Critic Consensus: A buoyant, clever update of the conman flick Bedtime Story, with plenty of comedic jousting resulting from a winning chemistry between Michael Caine and Steve Martin.
Dirty Rotten Scoundrels Videos
Dirty Rotten Scoundrels Photos
Movie Info
Dirty Rotten Scoundrels is a remake of the 1964 film farce Bedtime Story. Steve Martin and Michael Caine take over the roles originally played by Marlon Brando and David Niven: two international con artists, plying their trade on gullible wealthy women up and down the Riviera. Martin and Caine vie over the honor of fleecing ingenuous heiress Glenne Headly (in a role originated by Shirley Jones).
Critic Reviews for Dirty Rotten Scoundrels
Audience Reviews for Dirty Rotten Scoundrels
The life (and livelihood) of a well established continental con artist (Michael Caine) on the Riviera is disrupted when clumsy competition appears in the person of unkempt small-timer (Steve Martin) in Frank Oz' light comedy that's worth more than simply a smile. Martin's "Rupert" character is particularly pleasing. Glenne Headly also charms.
Kevin M. Williams
Super Reviewer
Michael and Steve are hilarious as con men trying to out do each other, but they meet their match in the jackel. Very funny and interesting plots.
Candy Rose
Super Reviewer
Steve Martin and Michael Caine make quite the comedic pair, in this delightfully entertaining 80's gem, about two rivalring con artists - one the street hustler type and the other of a more sophisticated school - who upon realising that their "hunting ground" isn't big enough for the both of them, agrees on a settlement: The first one to extract $50.000 from a young female target wins, while the other has to leave town. And what a location at that! The picturesque French riviera, in which the story runs its course, is a showcase of true beauty; sometimes stunning the eyes so much that you get lost in the divine settings. It makes you wanna buy yourself a house there some day, and just sit on the terrace and take in the ocean air. And if that's not enough to get you to watch it, the two virtuosic leads certainly will. Funnyman Steve Martin is in his absolute prime, with a very vibrant performance that is nothing short of hilarious. And Michael Caine, while perhaps not as funny, infuses every moment on screen with charm, suavity and his wonderful British wit. A must-see if you're a fan of either and a gold-encrusted humor show, that is abundantly rich in laughs, glamour and alluring visuals. So whatever you do, don't let it slip under your radar like it almost did for me. Because this movie is simply too good to be missed!
Dirty Rotten Scoundrels Quotes
| | |
| --- | --- |
| Freddy Benson: | Go stand over there. |
| Janet Colgate: | Here? |
| Freddy Benson: | No, over by the bed. I want to see how far I can go. |
| | |
| --- | --- |
| Freddy Benson: | I know somebody here! I met him on a train! His name... is... his name is... James. No. His name is... James Josephson. Lor. No, no, no. James Lawrence. LAWRENCE... Lawrence. Lawrence Fells. Lawrence Feings. Forest Lorenston. Low. Lars. LARS. Lawrence. Lawrence. Luch. Lawrence. Tuh. His name is James Jesenthon. Lawrence Fell. Lawrence Jesterton. LAWRENCE |
| | |
| --- | --- |
| Freddy Benson: | I've got culture coming out of my ass. |
| | |
| --- | --- |
| Lawrence Jamieson: | Freddy, as a younger man, I was a sculptor, a painter, and a musician. There was just one problem: I wasn't very good. As a matter of fact, I was dreadful. I finally came to the frustrating conclusion that I had taste and style, but not talent. I knew my limitations. We all have our limitations, Freddy. Fortunately, I discovered that taste and style were commodities that people desired. Freddy, what I am saying is: know your limitations. You are a moron. |