Disgrace
(2008)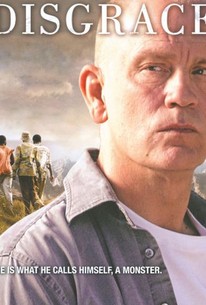 TOMATOMETER
AUDIENCE SCORE
Critic Consensus: Featuring outstanding performances from John Malkovich and newcomer Jessica Haines, Disgrace is a disturbing, powerful drama.
Movie Info
Set in Cape Town, a twice-divorced literature professor retreats to his daughter's farm after having an impulsive affair with a student.
News & Interviews for Disgrace
Critic Reviews for Disgrace
Audience Reviews for Disgrace
½
What is so fantastic about this powerful, thought-provoking drama is not only the remarkably intelligent way that it raises many questions about good, evil, morality and amorality, but also that it can be incredibly tense, gripping and unpredictable.
Carlos Magalhães
Super Reviewer
In Cape Town, a professor who was fired for screwing a student retreats to his daughter's ranch where they encounter provincial politics and a gang of rapist thieves. This is an extraordinary film. The plot, drenched with post-colonial themes that expose the racism inherent in apartheid, unfolds deftly, and the characters are all compelling, drawn finely and with an uncomfortable realism. The performances are all great, especially by John Malkovich. The scenes between David and Petrus are always rich with subtext. The film's message - even though it's too complex to be reduced to a simple moral - draws a comparison between the Lucy's rape and what white colonialists have done to the country. Additionally, the white characters are in and of themselves victims to their own greedy system. Malkovich, as I've said, is amazing in this film, and I think he can do anything, but he can't do an accent - the one flaw of his work in this film. Overall, Disgrace is simply great, especially for those of you interested in post-colonial theory.
Jim Hunter
Super Reviewer
When an middle-aged University professor is asked to leave after an affair with a student he turns to his adult daughter, a South-African farmer. Of course he doesn't find peace on the countryside. His encounter with violence and racism out in the fields shakes his beliefs, but does it change him? Malkovich is perfect, of course, in the role. But the film feels without a clear direction at times, doesn't quite seem to know where it is getting at. In the end, there is no solution, just hints of one. The setting does add a very special atmosphere to the film, though and makes it worth seeing after all.
Disgrace Quotes
There are no approved quotes yet for this movie.