The Dish
(2001)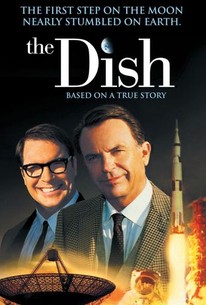 Movie Info
In this comedy, as American astronauts prepare to make one giant leap for mankind, a small Australian town stumbles through its own small steps to help. In the summer of 1969, Cliff Buxton (Sam Neill) leads a team of scientists overseeing the operations of one of the world's largest radio telescope dishes, nestled in a New South Wales community of sheep farmers. As NASA prepares for Apollo 11, the first manned voyage to the moon, Buxton and his crew are asked if they will allow their telescope's dish to be used as a backup receiver for the television transmission from the moon, should the main receiver in California fail. Buxton and his men are more than happy to help, and the village is agog as they gear up for their own small part in one of the world's greatest adventures. Mayor McIntyre (Roy Billing) and his wife May (Genevieve Mooy) are thrilled to be greeting a small but steady stream of important visitors, though many of the locals are not especially good with etiquette, and several members of Buxton's team, most notably high-strung Mitch (Kevin Harrington), are less than enthusiastic about Al Burnett (Patrick Warburton), the know-it-all NASA technician brought in to oversee the Australian operations. When a change in Apollo 11's schedule means the Australian dish will have to pick up the vital broadcast from the moon, Cliff, Mitch, and Al must put aside their differences to pull the show together. Though played for laughs, The Dish was inspired by actual events. ~ Mark Deming, Rovi
Critic Reviews for The Dish
Audience Reviews for The Dish
½
i liked it! its a nice little cute movie thats amausing in places and quite good fun movie that leaves you happy, and of course sam neill looks gorgeous as ever!! its about the landing on the moon of neil armstrong but its about the dish that broadcasted the pictures to earth based on true events and based in australia! A nice movie to watch light heartedly!!
Film Crazy
Super Reviewer
Fantastic Aussie film. Full review later
Thomas Bowler
Super Reviewer
½
Based on a true story Sam Neill and his team in Australia are responsible for beaming the image of Neil Armstrong's moon landing around the world.
Candy Rose
Super Reviewer
The Dish Quotes
There are no approved quotes yet for this movie.