Disneynature Bears
(2014)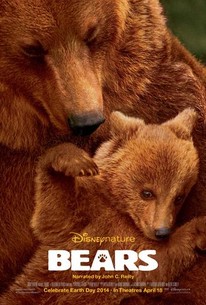 Disneynature Bears Photos
Movie Info
In an epic story of breathtaking scale, Disneynature's new True Life Adventure "Bears" showcases a year in the life of a bear family as two impressionable young cubs are taught life's most important lessons. Set against a majestic Alaskan backdrop teeming with life, their journey begins as winter comes to an end and the bears emerge from hibernation to face the bitter cold. The world outside is exciting-but risky-as the cubs' playful descent down the mountain carries with it a looming threat of avalanches. As the season changes from spring to summer, the brown bears must work hard to find food-ultimately feasting at a plentiful salmon run-while staying safe from rival male bears and predators, including an ever-present wolf pack. "Bears" captures the fast-moving action and suspense of life in one of the planet's last great wildernesses-Alaska! Directed by Alastair Fothergill ("Earth," "African Cats" and "Chimpanzee") and Keith Scholey ("African Cats"), "Bears" arrives in theaters April 18, 2014, to celebrate Earth Day.(c) Disney
Critic Reviews for Disneynature Bears
Audience Reviews for Disneynature Bears
Charming and awe-inspiring, Disneynature continues it's streak of beautifully filmed nature documentaries with this adorable and pleasant look at the lives of a family of three bears. Rating: 82
Disney's latest nature doc follows two bear cubs through their first year of life. Great footage of these magnificent beasts prowling the Alaska wilderness, but the anthropomorphic commentary gets so cutesy you sometimes wish mama bear would go GRIZZLY MAN on narrator John C. Reilly.
I never really know how much to say about these Disneynature films. They are not insufficient enough to call them mild distractions, as the footage is generally great, the voiceovers are fun, and there is enough work done to build a narrative that I can get behind what they have to offer. It generally amounts to having a chance to see animals that kids generally grow up being intrigued by and having a new perspective that can be formed by families, in regards to those animals. African Cats worked for me, as it was neat to see a big screen documentary about lions, with the bonus addition of Samuel L. Jackson providing narration. That film also worked due to the stakes that, manufactured or not, presented a real life depiction of what lions go through. Bears finds a way to create similar stakes, which makes the film effective enough in what ultimately amounts to a large format way to see bears in action. read the whole review at thecodeiszeek.com
Aaron Neuwirth
Super Reviewer
Disneynature Bears Quotes
There are no approved quotes yet for this movie.