Disneynature Monkey Kingdom
(2015)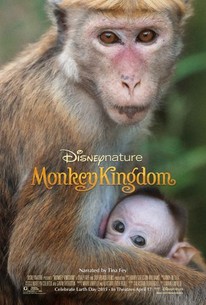 Disneynature Monkey Kingdom Videos
Disneynature Monkey Kingdom Photos
Movie Info
Mark Linfield's nature documentary Monkey Kingdom follows the struggles of a young monkey mother to care for and raise her new baby in the wilds of Southern Asia.
Critic Reviews for Disneynature Monkey Kingdom
Audience Reviews for Disneynature Monkey Kingdom
True, Monkey Kingdom heeds closely to the established Disneynature formula of creating family-friendly stories out of beautiful footage from animals in the wild, but Monkey Kingdom also has the advantage of a thoroughly engaging story, perhaps more-so than the other films in the series. What the monkeys lack in adorability, at least compared to the main creatures in last years Bears, they make up for in pure entertainment. These monkeys are fun to watch and interesting in the fact that their lives are dominated by a social structure. This creates almost sympathy out of the lower class heroine Maya and her son Kip. Yes it is a story imbued with Disneyness and even giving Maya a sort of princess tale, but it is also touching and frequently exciting. I do hope though that for their next film, which appears to be Born in China, that Disneynature will branch out of the single location kind of idea and return to Earth and Oceans roots. That being said, Monkey Kingdom is a dose of refreshing family entertainment and will get kids interested in the lives of such rarely seen creatures. Rating: 82
Disneynature Monkey Kingdom Quotes
There are no approved quotes yet for this movie.