District 9
(2009)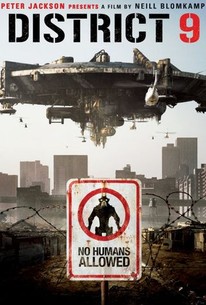 TOMATOMETER
AUDIENCE SCORE
Critic Consensus: Technically brilliant and emotionally wrenching, District 9 has action, imagination, and all the elements of a thoroughly entertaining science-fiction classic.
Movie Info
Director Neill Blomkamp teams with producer Peter Jackson for this tale of extraterrestrial refugees stuck in contemporary South Africa. It's been 28 years since the aliens made first contact, but there was never any attack from the skies, nor any profound technological revelation capable of advancing our society. Instead, the aliens were treated as refugees. They were the last of their kind, and in order to accommodate them, the government of South Africa set up a makeshift home in District 9 as politicians and world leaders debated how to handle the situation. As the humans begin to grow wary of the unwelcome intruders, a private company called Multi-National United (MNU) is assigned the task of controlling the aliens. But MNU is less interested in the aliens' welfare than attempting to understand how their weaponry works. Should they manage to make that breakthrough, they will receive tremendous profits to fund their research. Unfortunately, the highly advanced weaponry requires alien DNA in order to be activated. When MNU field operative Wikus van der Merwe (Sharlto Copley) is exposed to biotechnology that causes his DNA to mutate, the tensions between the aliens and the humans intensifies. Wikus is the key to unlocking the alien's technology, and he quickly becomes the most wanted man on the planet. Ostracized and isolated, Wikus retreats to District 9 in a desperate bid to shake his dogged pursuers. ~ Jason Buchanan, Rovi
News & Interviews for District 9
Critic Reviews for District 9
Audience Reviews for District 9
District 9 is a gritty, groundbreaking sci-fi thriller that highlights the sheer brilliance of Peter Jackson and Neil Blomkamp. From the stunning visuals to its emotionally gripping tale, the film keeps you on edge and provokes the graphic nature of survival. 5/5
Eugene Bernabe
Super Reviewer
Besides the clichés, plot holes and incoherent use of the camera, any allusion to Apartheid seems dishonest, since it is hard to believe that anyone could be tolerant if an alien spacecraft arrived on Earth carrying over a million of those repellent giant lobsters uninvited.
Carlos Magalhães
Super Reviewer
½
When a malfunctioning alien spaceship strands over a million of its inhabitants on Earth, they find an unlikely champion in the shape of a previously self serving weapons manufacturer exec who starts to metamorphose into one of them after exposure to an unknown chemical. District 9's plot takes a lot of cues from cult 80s sci-fi, most obviously the racism allegory of Alien Nation and the genetic mutation premise from Cronenberg's The Fly. However, unlike something like Doomsday which simply ripped off old films with no wit or subtlety, this film actually develops upon its ideas. The production design is fantastic and the action sequences extremely well done, particularly the brilliantly handled climactic battle and the film has a great deal of momentum that meant I enjoyed it more and more as it went on. But easily the strongest aspect of the film is Sharlto Copley's central performance who is quite brilliant as the selfish corporate bastard who unwillingly finds a cause to fight for. It would have been nice to learn more about what happened to the ship and the aliens in the first place and why these obviously technologically advanced creatures had degenerated into a bunch of filthy, scavenging animals but as a whole it is a hugely enjoyable piece of action sci-fi with an intelligent twist.
District 9 Quotes
| | |
| --- | --- |
| Koobus Venter: | Listen to me, you fuck! Get that fucking camera out of my face! |
| | |
| --- | --- |
| Wikus van der Merwe: | Fuck off! No, fuck off, man! |
| | |
| --- | --- |
| Wikus van der Merwe: | Hello, little guy! It's the sweetie man coming! |
| | |
| --- | --- |
| Wikus van der Merwe: | Hey, you! Don't urinate on your fucking clothing! |