District B13 (Banlieue 13)
(2006)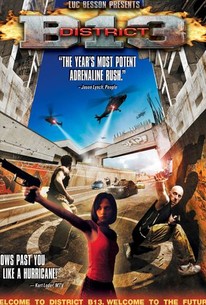 District B13 (Banlieue 13) Photos
Movie Info
A nuclear weapon has been stolen by the most powerful gang in Paris' treacherous, walled-in ghetto, and it's up to a determined cop and a vigilante criminal in search of his sister to infiltrate the sector, save the girl, and get the bomb out of the bad guys' hands in an action-packed tale produced by Luc Besson and directed by cinematographer Pierre Morel. The year is 2010, and a massive wall has been erected to keep the violence of the Paris ghetto confined to District B13. Within these walls, gangs rules the streets and law enforcement is powerless. This time the gangs have gone too far, though, and when the authorities realize that a nuclear weapon has been smuggled into the district, specially trained policeman and martial artist Damien is assigned the task of retrieving the weapon of mass destruction before Paris goes up in flames. He's not going to be able to do it on his own, though, and when Damien learns that breakaway bad guy Leïto's sister has been abducted by the very same gang, the pair soon forges a tentative partnership that merges the power of law enforcement with the anything-goes attitude of the criminal element. ~ Jason Buchanan, Rovi
Critic Reviews for District B13 (Banlieue 13)
Audience Reviews for District B13 (Banlieue 13)
½
It's great over the top fun. A smart, funny and highly entertaining film packed with incredible wall to wall action. Ong Bak meets Escape from New York. An unstoppable thrill ride that delivers the goods and incredible aerobic stunts. Its a head bashing good time. It's fast, furious and spectacular entertainment. It's loaded with great chases, awesome fight sequences and terrific gun battles. Director, Pierre Morel and Writer/Producer, Luc Besson bring a tremendously exciting and new breed of action film. David Belle and Cyril Raffaelli bring on great chemistry as well as their incredible skills in martial arts and parkour. An 85 minute, testosterone-injected roller-coaster ride that's one of the most visually memorable action films in years.
½
Pierre Morel gets District B13 in, over, and around the block.
Everything about this film is quick. The pacing of the story feels the need to sprint to the finish, yet it easy enough to follow. The dialogue is straight to the point and hastily executed. Do the math and it all leads to a brief run time of 70 minutes. Talk about short and sweet.
The action relies heavily on parkour and the introduction for each of the protagonists deliver some highly amusing pieces. The stunts are solid and the sequences are fast-paced with little in the way of slow motion. The fighting is also stylized with some parkour elements thrown in.
David Belle and Cyril Raffaelli are all over the place, while Dany Verissimo provides some much needed girl power on screen. Bibi Naceri and Tony D'Amario are your typical drug gangsters.
There really isn't much to District B13, but as a quick action adventure, it delivers.
½
[img]http://images.rottentomatoes.com/images/user/icons/icon14.gif[/img]
Directors Cat
Super Reviewer
District B13 (Banlieue 13) Quotes
There are no approved quotes yet for this movie.