Disturbia
(2007)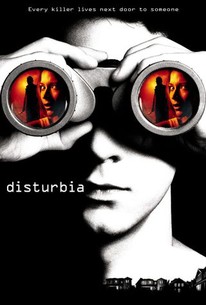 TOMATOMETER
AUDIENCE SCORE
Critic Consensus: Aside from its clichéd resolution, Disturbia is a tense, subtle thriller with a noteworthy performance from Shia LaBeouf.
Movie Info
Salton Sea director D.J. Caruso travels from the shore to the suburbs for this suspenseful tale of a high-school senior who suspects that his neighbor is a notorious serial killer. Kale (Shia LaBeouf) is a high-school senior who has yet to come to terms with the fact that his father is gone, the tragic victim of a fatal accident. As Kale's mother (Carrie-Anne Moss) struggles to pay the bills by picking up extra shifts at work, her son's behavior grows increasingly erratic. When an altercation at school finds Kale placed under court-ordered house arrest, the homebound student teams with newly arrived girl-next-door Ashley (Sarah Roemer) to investigate the suspicious neighbor (David Morse) whom Kale believes to be an elusive and wanted serial killer. Their attentions focused intensely on the man they believe to be a murderous maniac hiding in broad daylight, Kale and Ashley trespass down a dangerous path while attempting to discern whether his suspicions are grounded in fact or just a combination of deep depression and suffocating cabin fever. ~ Jason Buchanan, Rovi
Critic Reviews for Disturbia
Audience Reviews for Disturbia
½
Enjoyable thriller. Doesn't try to hard but at the same time delivers everything you'd want from a thriller!
Film Crazy
Super Reviewer
½
A decent conversion of a Hitchcock classic to modern-day America. The leads are passable, the story is very predictable however, with an ending that ruins its one shot of suspense big time. It's still a pretty good movie for teens and the like to watch, since the two lead stars are obviously attractive and their relationship strengthens as the film goes on. It's a typical standard thriller, but it has enough humor and the use of technology is used very well, so it's probably worth a view.
Dan Schultz
Super Reviewer
Hardly an homage to "Rear Window", "Disturbia" steals the plotline from a classic and gives it a contemporary twist with surprisingly positive results. Swap out an injured photographer for a troubled kid with a past and a house-arrest leg-brace and you get partly the same claustrophobic and helpless feel that "Rear Window" injected into audiences. Shia LaBeouf is this kid and he gives off possibly his best performance in his entire career. He's convincing, emotional, and downright explosive. But let me get this out of the way: "Disturbia" is no "Rear Window"... at all. "Disturbia" may have taken the similar narrative, but in no ways does "Disturbia" execute in the same fashion or quality. The writing's off, the tone is geared more towards the teenage crowd, the storytelling isn't as suspenseful, cinematography is done in mainstream Hollywood fashion, and it has a clichà (C)d ending that interrupts the tension it built up. Now unlike "Rear Window", "Disturbia" decides to throw all the mystery aspects of its narrative out and make the suspense and tension aspect its focal point. And in many ways, "Disturbia" delivers. Despite the fact that it was fixated to bring a tense-filled experience, "Rear Window" is just a more suspenseful film that so happened to also be an intriguing character-piece, an engaging mystery, and a thought-provoking film. Despite high regards to the classic, "Disturbia" is not a bad film on its own nor is it only fixated on suspense. There is a subplot that involves LaBeouf's character's father and the subplot is absolutely riveting for the first few minutes. But this subplot is only a device that is used to hook the audiences with the character and the film. In no ways does it characterize with the main story arc by its finale. I asked myself, "So what was the point of that part of the story?" "Disturbia" gets a lot of things right. Unfortunately for the film, its overshadowed by a whole 'nother beast named "Rear Window". Like I said before, this is not a bad film, but it evidently shows how the quality of mainstream Hollywood filmmaking has declined from the time "Rear Window" was made. "Disturbia" is a perfect representation of what a 21st century film is like; "Rear Window" is a perfect representation of what a 20th century film is like. The result? "Disturbia" is clearly the inferior film but still worth a watch.
Disturbia Quotes
| | |
| --- | --- |
| Ronnie: | [breaking into a car] This is a lot harder than it looks on the Internet. |
| | |
| --- | --- |
| Ronnie: | [filming Kale and Ashley kissing] Soon to be the most popular video on YouTube. |
| | |
| --- | --- |
| Kale Brecht: | Do you think he sees us? |
| Daniel Brecht: | No, he can't see us. But trust me, he can feel us watching. |
| | |
| --- | --- |
| Ronnie: | Dude you havta see this I got like my whole great escape on video! |