Disturbing Behavior
(1998)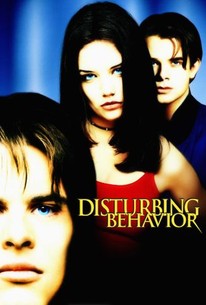 Disturbing Behavior Photos
Movie Info
In this fantasy thriller, when teen-ager Steve Clark moves to Cradle Bay, Steve is immediately cautioned by Gavin Strick about the separating factions at the high school, where a club of robotic perfect students rule. Gavin claims a conspiracy is afoot, and sure enough, he turns into an ultra-perfect himself.
News & Interviews for Disturbing Behavior
Critic Reviews for Disturbing Behavior
Audience Reviews for Disturbing Behavior
Nothing more than a guilty pleasure. Plus James Marsden was so hot at 22.
½
One of the many teen horror movies to come out after the popularity of Scream. It was ok but nothing memorable.
Jason Spencer
Super Reviewer
½
This is a cool teen thriller. Suprised it's not more well know as I only saw it through a recommendation. It's good fun if predictable. Very similar to The Faculty and with a strong cast.
Disturbing Behavior Quotes
| | |
| --- | --- |
| Dorian Newberry: | (after hitting the cop over the head and knocking him out) - That's a big rat! |
| Dorian Newberry: | (after hitting the cop over the head and knocking him out) That's a big rat! |
| | |
| --- | --- |
| Rachel Wagner: | (about going to Bishop Flats) - Maybe this isn't a good idea. |
| Rachel Wagner: | (about going to Bishop Flats) Maybe this isn't a good idea. |
| Steve Clark: | Think of it as our first date. |
| | |
| --- | --- |
| Gavin Strick: | Rae, Gavin Strick here. Live and unplugged. Guess if you found this, then you know. Am I hanging with Trent and Robby...and the rest of the Robots? God, I hope not. I hit the vents tonight when I split up with Stevie Boy. He doesn't believe. I went back to school...and I overheard Caldicott talking to some wonk. Mentioned "Bishop Flats Eleven." Caldicott called them his children. Then he freaked out on the guy and kicked him out of his office. So, I figure something's up with that. Keep an eye on U.V. For me, though I doubt they'll want him. I doubt they're interested in the pigmentally challenged. That's not their style. I have to go get paranoid. This is Gavin Strick...reporting live from The Reconstruction. |
| Gavin Strick: | Rae, Gavin Strick here. Live and unplugged. Guess if you found this, then you know. Am I hanging with Trent and Robby, and the rest of the Robots? God, I hope not. I hit the vents tonight when I split up with Stevie Boy. He doesn't believe. I went back to school, and I overheard Caldicott talking to some wonk. Mentioned 'Bishop Flats Eleven.' Caldicott called them his children. Then he freaked out on the guy and kicked him out of his office. So, I figure something's up with that. Keep an eye on U.V. For me, though I doubt they'll want him. I doubt they're interested in the pigmentally challenged. That's not their style. I have to go get paranoid. This is Gavin Strick, reporting live from The Reconstruction. |
| | |
| --- | --- |
| Gavin Strick: | (now a programmed Blue Ribbon) - Hello, class...Welcome. |
| Gavin Strick: | (now a programmed Blue Ribbon) Hello, class. Welcome. |