Divergence
(2005)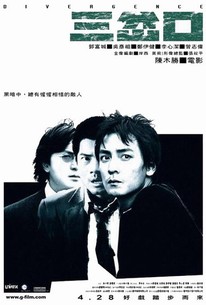 AUDIENCE SCORE
Critic Consensus: No consensus yet.
Movie Info
A top celebrity cop finds his ability to solve a series of kidnappings and white collar crimes sidelined by the grief he harbors for his long-missing girlfriend in this dramatic Hong Kong action entry from director Benny Chan. Ever since Suen Sui-yan (Aaron Kwok)'s girlfriend went missing without a trace ten years ago, everything just seemed to fall apart for the high profile policeman who could once do no wrong. These days Suen is investigating a lucrative money laundering scheme, but upon being assigned the task of escorting a crooked accountant named Hung (Patrick Chow) to the Hong Kong airport, his luck takes an even darker turn when an assassin's bullet kills his unfortunate charge. Suen's suspicions that something is amiss are soon confirmed when a barrister acting on behalf of powerful businessman Yiu (Lo Ka-leung) denies that his client played any part in the killing and Yiu's assets are freed-up since the potential police witness has been permanently silenced, and before long the suspicious suit is struggling to pay off a sizable debt to the triads. Soon after triad boss Jim (Lau Siu-ming) admits to a fondness for Yiu's pop-star son Yiu Ha (Tommy Yuen), the adolescent singing sensation is suddenly kidnapped. Now, as Suen struggles to make a connection between all the events and reveal the identity of the mysterious assassin, the resemblance between Barrister To (Ekin Chang)'s beautiful wife Amy (Angelica Lee) and Suen's own long-missing girlfriend fast begins to cloud the determined cop's head and complicate the case.
Critic Reviews for Divergence
Audience Reviews for Divergence
An ok thriller from Hong Kong. The story is a bit messy and it really could have done with a bit more excitement and action, but it passes the time well enough. Could have been a lot better though.
½
This film may be disappointing to many. This is more of a crime drama, rather than an action adventure that we usually see from director Benny Chan.
The story has potential as it revolves around 3 different characters whose lives become intertwined because of a murder. It is nice to see the movie jump around to each character, but what really hurts is that a little too much time is spent on Aaron Kwok's character, who is quite frankly, annoying to watch at times. For a crime thriller this film is OK. It does have its share of surprises and the ending is a little eventful. Of course this isn't your straight up cops and robbers storyline. Yes, one of the characters is a cop, one is an assassin, and the other a lawyer, but as I previously mentioned it is more about the 3 characters themselves as opposed to the good guy hunting down the bad guy.
There is some action in here and the foot chase is a good one. The small amount of one-on-one fight scenes are so-so and this is because the main actors aren't known for their martial arts. I know Benny Chan likes his martial arts action, but this film isn't made for it.
The acting is a little bit of a letdown. It isn't bad, but I've seen better. Aaron Kwok is just bland except when he is mad. Ekin Cheng isn't too bad and the same goes for Daniel Wu. Angelica Lee and Ning Jing are the females to watch out for. Ning Jing is still quite attractive with her shaved head.
Divergence is another crime thriller that will find the hearts of some, but at the end of the day you find yourself not caring about the characters, thus making this a film to slowly fade away in the back of your mind.
Nice psychological/action thriller.
Anthony Valletta
Super Reviewer
Divergence Quotes
There are no approved quotes yet for this movie.