The Divorcée
(1930)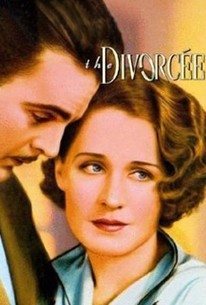 Movie Info
Norma Shearer earned an Academy Award for playing the not so gay divorcée in this pre-Code offering based, loosely, on Ex-Wife, a 1929 Ursula Parrott novel. Shearer is Jerry, a socialite who marries handsome Ted (Chester Morris) after a whirlwind courtship. But Ted is not exactly the faithful type and after three years of what she in her naïveté considered marital bliss, Jerry learns of his affair with Janice (Mary Doran). "It meant nothing," Ted assures her but Jerry is devastated and decides to investigate adultery for herself by sleeping with Ted's best friend, Don (Robert Montgomery). When she discovers that the old double-standard still applies, Jerry announces that henceforth Ted, and only Ted, is no longer welcome in her bed. After a string of lovers who mean little or nothing to her, Jerry falls for an old flame, Paul (Conrad Nagel), but when she understands the effect their affair has on Paul's poor disfigured wife, Dorothy (Helen Johnson, aka Judith Wood), Jerry returns to Ted, who still loves her despite it all. ~ Hans J. Wollstein, Rovi
Critic Reviews for The Divorcée
Audience Reviews for The Divorcée
An okay and slightly interesting 30s pic that displays some taboos that you don't see later on after Hollywood decides to be more "moral" in its portrayals. That's about it though. It doesn't stand a chance when compared to modern films about womens' sexuality.
John Ballantine
Super Reviewer
This movie is okay, it's just like a lot of other movies with similar plots about divorced couples, and the predictable happy ending, of course. Not bad, but not good either.
½
Creaky antique, considering the difference in acting styles between now and then Shearer is good not great and its interesting to see the frankness which the subject is dealt with in this pre-code drama but its hard to understand her decision since her husband is a infantile louse.
The Divorcée Quotes
There are no approved quotes yet for this movie.