DOA: Dead or Alive
(2007)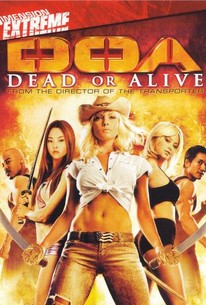 TOMATOMETER
AUDIENCE SCORE
Critic Consensus: With a ridiculous plot and comical acting, checking one's brain at the door is required before watching DOA: Dead or Alive.
DOA: Dead or Alive Photos
Movie Info
Legendary Hong Kong action director and choreographer Corey Yuen brings Tecmo's best-selling video-game franchise to the big screen in a martial arts extravaganza featuring an impressive quartet of female fighters including Devon Aoki, Sarah Carter, Jaime Pressly, and Holly Valance. Tina (Pressly), Christie (Valance), Kasumi (Aoki), and Helena (Carter) are four skilled martial artists whose outwardly sexy appearances betray their true lethal natures. When the fearsome females each receive an invitation to take part in an illegal martial arts competition to be staged on a remote Asian island, the prospect of a ten-million-dollar top prize is only sweetened by the fact that they will be facing off against some of the toughest fighters on the planet. Now, in order to defend their honor and search for the answers to life's greatest mysteries, Tina, Christie, Kasumi, and Helena will check their inhibitions at the beach and prepare for a series of fights that will test not only their strength, stamina, and endurance, but the very foundation of their dedication to the martial arts as well. ~ Jason Buchanan, Rovi
Critic Reviews for DOA: Dead or Alive
Audience Reviews for DOA: Dead or Alive
½
Yep this is a videogame adaptation alright, if its possible this is even more cheesy and ridiculous than 'Mortal Kombat' and 'Tekken' put together. Based on one of the more weaker 'beat em up's' which is famous for having very realistic boobs on the female fighters. I don't really know anymore as I've never really played this fighter, a poor man's 'Tekken' methinks. The plot is...well it doesn't really matter does it, like all beat em up adaptations its purely and simply about the fights whilst the plot is meaningless poo and completely incomprehensible. The same can be said for the actual videogames of course but you play them for fun whilst making a pathetic film with bottom of the barrel actors is another inexcusable matter. Its aimed at kids so as you can guess there is no real fighting whatsoever, its all nice and gentle with no violence or actual hitting in anyway really. I've haven't seen so much lame ass CGI and wire work for some time, couple that with hilariously bad costumes on some characters, close to the bone skimpy outfits on some female characters (that's all good), your usual exotic locations mixed with the ever popular Eastern arenas such as the bamboo forest (again) and the usual mix of cliched unoriginal fighters ('DOA' was a late entry into the beat em up world). Its all very colourful with lots of flashing digital effects and stupid onscreen videogame type imagery just in case you forgot your watching a shitty videogame adaptation. The most unforgivable issue here though is the fact the fights are so poor and fake looking, the female cast maybe gorgeous and semi famous (Holly Valance) but they can't do the moves and they can't act like they can do the moves. It may look pretty and shiny but this still manages to rank below most other crappy videogame films because its so dumb and vacant ('MK' and 'Tekken' had some grit at least). Had it come along earlier (like its actual videogame counterpart) then it might have fared slightly better, its still not as bad as 'Street Fighter'.
Phil Hubbs
Super Reviewer
Devon Aoki's acting is more predictable than my balls in a hot-tub. this is a movie called "dead or alive: dead or alive." There is also a black guy with a green dinosaur-spike mow-hawk who thinks everybody wants to fight him or blow him. im sure theres a real world audition tape of him somewhere.
Coxxie Mild Sauce
Super Reviewer
Kevin nash was funny . . Eric Roberts was funny . .the whole movie was more fun than it shouldve been oh wait it wasnt a comedy??
John Manard
Super Reviewer
DOA: Dead or Alive Quotes
| | |
| --- | --- |
| Christie: | Well, they're a girl's best friend. Made form carbons. Subjected to high pressure. Traditionally a 60th Wedding Anniversary gift. And they're forever. |
| | |
| --- | --- |
| Hayabusa: | Princess Kasumi (knelt down)! i beg you do not leave the clan!... |
| Hayabusa: | Princess Kasumi! [knelt down] I beg you do not leave the clan! |
| Ayane: | (To Kasumi) I'm your servant but if you leave i'm honor bound to kill you... |
| Ayane: | [To Kasumi] I'm your servant but if you leave I'm honor bound to kill you... |