Dobermann
(1997)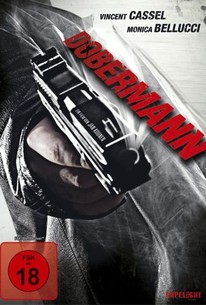 AUDIENCE SCORE
Critic Consensus: No consensus yet.
Movie Info
Bursting with comic book violence and noirish style, Jan Kounen's directorial debut is based upon the hip French crime novels of screenwriter Joel Houssin and chronicles the deadly confrontation between super cool crime boss Dobermann and a sociopathic cop.
Critic Reviews for Dobermann
All Critics (3) | Fresh (1) | Rotten (2) | DVD (2)
... is a must see for its sheer levels of craziness coupled with good acting and to see a young Cassel and Bellucci blow stuff and people up.
Bullets fly and the violence gets progressively more mindless and shocking in the frenetically-paced consequences.
...[the script] tries way too hard to come off as clever and hip.
Audience Reviews for Dobermann
½
It makes some great decisions, then makes some really bad ones. Cassel, Bellucci and Karyo are very well casted, the soundtrack is great. The movie can't make up it's mind if it wants to be a gritty urban thriller or over-the-top action. It tries both, but the script is too weak to make the characters stand from it's one dimensional facades of "cool". There are still some good sequences (the intro, the club battle) with more focus this could had been better.
Tsubaki Sanjuro
Super Reviewer
it continues, the experiment of a generation of filmmakers in France to see who can make characters look most like Muppets -- and, in the case of Dobermann, have less characterization than the Muppet show. The directors will not stop competing for this honor, whether the abstract material for their art is ultra-mayhem or hypersentimentalism. Extra points for putting Vincent Cassel in an ugly wig -- they love it! 3 or 4 good shots, the rest make you want to re-watch Raimi or Rodriguez... even Besson for God's sake who is at least good at getting all his ducks in a row.
Adam Mahler
Super Reviewer
Dobermann is one of the best 'live action comic books' ever made, IMO. The characters, the cinematography, the dialogue and the violence all have the comic book 'feel' - ultra-stylised and larger than life, and full of very black humour. The movie is basically a heist movie, with Dobermann himself (Vince Cassell) and his band of unlikely partners plotting a robbery, and pulling it off... but getting bad-ass cop Cristini (Tcheky Karyo) on their tale for their troubles. The movie is exceptionally well done - clearly a lot of love went into it from director Jan Kounen and from the cast. Some of the camera work is utterly unique and stunning, and the performances all round are excellent. Tcheky Karyo is particularly memorable - his role in KISS OF THE DRAGON was basically his DOBERMANN character watered down to about 1%. Dobermann himself is perhaps the least well developed character, remaining pretty detached and enigmatic throughout. There's lots of sharp dialogue and bits of absurdity that will obviously draw comparisons to Tarantino. This all leads to some action setpieces that are very very nicely done, including a stunning and extended climax. This is the 3rd time I've watched the movie, and I enjoy it more each time. Watched it at work last night with a pretty large group, and couldn't help wondering if it was a movie that showed cultural differences between the US and Europe. The Europeans & even a Canadian in the room were sat grinning from ear to ear from start to finish, all loving it... but the Americans in the room just didn't seem to 'get it' at all. They all seemed to be taking it much too seriously, and struggling terribly with the idea of an "anti-hero". The fact that Dobermann has killed an innocent man before he speaks his first line of dialogue seemed to give them trouble. Perhaps this is a European thing, along with the black humour. The difference in response between the Americans and the rest really was noticable. But, perhaps it's just a coincidence - and some people from any country are always going to miss the point on these things. If you like your heroes dirty, your characters about 3 times larger than life, your camera restless, your dialogue cynical and vicious and your violence explosive... then Dobermann is a wonderful movie you should definitely track down.
Cassandra Maples
Super Reviewer
Dobermann Quotes
There are no approved quotes yet for this movie.