The Docks of New York
(1928)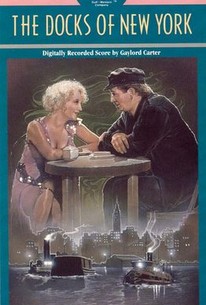 Movie Info
The smokily erotic ambience of Josef Von Sternberg's silent Docks of New York is best appreciated on a big theatrical screen--but only if the available print is at the very least second-generation. George Bancroft plays a two-fisted ship's stoker on shore leave. He saves Betty Compson from committing suicide; though the girl displays little gratitude, the inebriated Bancroft impulsively marries her. After he sobers up, Bancroft is prepared to set sail and leave his new wife waiting for him...perhaps forever. The story is secondary to the virtuosity of the direction and camerawork (one scene is framed in the eye of a needle!) Considered by many to be Von Sternberg's greatest film, Docks of New York is a prime example of the silent cinema at its zenith.
Critic Reviews for The Docks of New York
Audience Reviews for The Docks of New York
A ship worker falls for a suicidal woman. Much of George Bancroft's performance as Bill Roberts is spent strutting and posing with a masculine air that borders on satire, and the plot of the film is victim to silent film's inability to express full character interaction: if this is a love story, it's a love that the audience must endow with its own background and motivations. However, the film is a technical achievement. The cinematography is beautiful, and while Bill is a tough guy to like, there's enough compassion in him that we can find ourselves siding with him. This is a seedy world, and director Joseph von Sternberg presents it in all its bleak charm. There aren't many good guys, so von Sternberg makes the bad guys all themore interesting. Overall, this is a solid and remarkable film but not without its flaws.
Jim Hunter
Super Reviewer
In "The Docks of New York," Bill Roberts(George Bancroft) is a stoker on board of a steamboat that is about to dock for a night in New York. As such, he has plans but is warned not to be late for the boat's departure in the morning. Those same plans hit a snag when Bill dives into the harbor to rescue Mae(Betty Compson) who just tried to kill herself. As she recovers her wits, they get to know each other. Just after he shows off his tattoos, she pops the question. "The Docks of New York" is an engrossing and lively film about people in the lowest rungs of life who are not so much given a reprieve, but just the barest glimmer of hope. At the start, Mae has given up on any possibilties for her future while Bill takes advantage of whatever fun he can find for himself, when he is not at his grueling job, to enjoy himself and forget everything else. All of which is set in a close knit community of people who look out for each other when they have nothing else.
The Docks of New York Quotes
There are no approved quotes yet for this movie.